Colton Christmas Conspiracy by Lisa Childs is the fifth book in the Harlequin series, Coltons of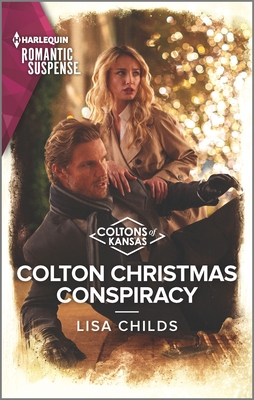 Kansas. This book is an exciting addition to the series. It starts out with a bang… literally.
Mayor Elise Willis was once married to a Colton, Attorney Neil Colton. They met in law school, fell in love, married and opened a law practice together. Love didn't seem to be enough for their marriage to succeed so they ended up divorced. One of the major problems was Neil wanted to start a family and Elise wasn't ready. So now here she is with her period being late and she suspects she is pregnant, pregnant with Neil's baby after they couldn't fight off their sexual attraction to each other a month ago.
Now Neil has left her a message to meet him at Crest View Center, the warehouse Colton Construction, Neil's father's company, was renovating when the remains of two murder victims were found there. The renovations had to be stopped for the investigation into the cold case murders. Elise has no idea why Neil would want to meet her there. Their divorce had been a friendly one so they did get together once a month for dinner as they wanted to remain friends, but why this meet? Elise drove to the meeting place and headed inside to see what Neil wanted. Neil entered after her but they decided to make a quick exit. It felt like a set-up when they discovered neither one sent each other the message to meet there.
Neil Colton knew he made a mistake when he divorced Elise Willis. He still loved her, always would. Yes, they argued a lot but that wasn't the problem. When Elise put off starting a family Neil lost it. Now they are both in danger. Someone wants them both dead. What a bad time to find out that their one night of lovemaking the previous month resulted in Elise getting pregnant. As soon as he found out he proposed. Elise said "No" then and every time thereafter too. Neil is frantic to protect Elise and their unborn child. Perhaps after the danger is over, if they survive, he can convince Elise that they are meant to be together.
Elise and Neil are interesting characters. Neil is a little too impulsive and Elise is a little too insecure. But they both still love each other. It was great to see many of the Colton family members jump in to help solve the mystery of who wants Elise and Neil dead. I liked how they are willing to drop everything to support a family member. This is a fast-paced, action-packed story and it kept me turning the pages.
Book Info:

Publication: November 1st 2020 | Harlequin Romantic Suspense | Coltons of Kansas #5
United at Christmas by new life
Threatened by an old enemy
Neil Colton and Mayor Elise Willis loved and lost each other long ago…but desire and danger soon reunite them this holiday season. In the aftermath of an attack on both their lives, Elise reveals that—thanks to one reckless night—she's pregnant with Neil's baby. Nothing will prevent the lawyer from protecting the woman he loves and the child he's always wanted… Even if it means losing his own life.
From Harlequin Romantic Suspense: Danger. Passion. Drama.
The Coltons of Kansas
Book 1: Exposing Colton Secrets by Marie Ferrarella
Book 2: Colton's Amnesia Target by Kimberly Van Meter
Book 3: Colton's Secret History by Jennifer D. Bokal
Book 4: Colton Storm Warning by Justine Davis
Book 5: Colton Christmas Conspiracy by Lisa Childs
Book 6: Colton in the Line of Fire by Cindy Dees