Not That Kind of Guy by Andie J. Christopher: Bridget is a hard working, kick ass lawyer, fighting for the rights of children and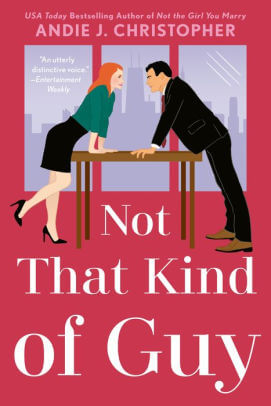 sexual abuse victims – think very Olivia Benson, SVU style bad ass girl power – however beneath her tough exterior is a very hurt soul. Having lost faith in marriage at a young age, when her mother up and left them and then dating her childhood friend Chris for over a decade, who turned out to be a self absorbed man child, Bridget has all but resigned herself to a no emotional involvement lifestyle. That is until her soon to be sister in-law Hannah insists she needs to bring a date for the upcoming wedding.
"Bridget Nolan had lush aurban hair, piercing true-blue eyes, cut-glass cheekbones, and a voice that was better than a hand job."
With Hannah's request playing at the back of her mind Bridget goes about her life not to worried about needing this date. Hell she can't really say she has been attracted to anyone in a while, that is until Matt Kido rolls into her life. When Bridget is assigned Matt to intern under her, she writes him off as a spoiled rich boy. What she didn't expect however was to be instantly attracted to him.
"I feel like I'm living out a very-hot-for-teacher fantasy right now."
From the moment that Matt saw Bridget he was taken on the spot, be it the forbidden nature or her simple beauty, Matt was smitten. Having been kept at arms length for the entirety of his internship , Matt jumps at the chance to get closer to Bridget when she mentions that she needs a date to her brothers wedding.
"The way I see it, we're both consenting adults I no longer work for you. And I think you're attracted to me, too."
What starts out as a trip to Vegas for the joint bachelor and bachelorette party turns into a drunken wedding for Bridget and Matt. Deciding to continue to pose as a married couple even after they return from Vegas, to mess with Matt's parents and to rub it in Bridget's ex face. All the while enjoying the pleasures that come with being a married couple, after all their sexual tension is like fire. While playing house neither of them expect to develop actual feelings for each other.
"It might be dangerous to feel too much for her soon-to-be-ex-husband, but she couldn't stop herself from wanting more and more of him in that moment"
I have to say I was on the fence with this book, not quite sure if I loved it or if I want more from it. I will say that it did have a few parallels to the movie The Proposal, like the age difference and the work situation. I do have to say that the book was filled with witty banter between Bridget and Matt, a personal favourite was their search for the perfect pet name.
I Find that the only real negative was that the first half of the book was filled with unnecessary over explanations, thus took away from the story for me. Another flaw was the lack of detail about the drunken wedding. These were just minor issues that did not stop me from enjoying the story. I loved both main characters as well as the secondary characters. Bridget was a strong, self made woman that you can't help but empathize with and relate to. Matt started of being portrayed as a shallow rich boy but came into his own as the book progressed, so much so that she could stand up to his family. I will say that the relationship between Bridget, her brothers, her father and Hannah were just so cute and even more so that Matt just gelled with all of them so well.
Overall this was a good book, that could have been great.
Book Info:

Publication: April 14th 2020 | Berkley |
An office attraction becomes something more when they're off the clock in this delightful romantic comedy by the USA Today bestselling author of Not the Girl You Marry.
State attorney Bridget Nolan is successful in all aspects of her life—except romance. After breaking up with her longtime boyfriend, she's been slow to reenter the dating scene. To be honest, she has more important things to do like putting bad guys behind bars. But with her brother's wedding right around the corner, she suddenly needs a date and fast. Lucky for Bridget, the legal intern is almost done with his program.
Matt Kido is dumbstruck by Bridget—total love at first sight—but there's one problem. She's totally off-limits while she's his boss. But the moment he no longer reports to her, Matt decides to take a chance. An impulsive decision takes them to Las Vegas where, as the saying goes, what happens in Vegas, stays in Vegas.
Unless you put a ring on it.