Colton's Undercover Reunion by Lara Lacombe is the ninth book in Harlequin's Coltons of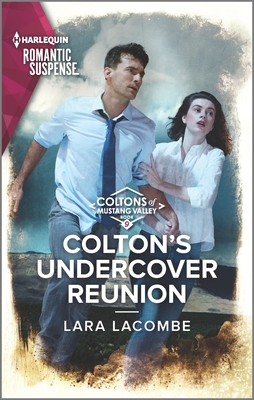 Mustang Valley series.
Ace Colton, who really isn't a Colton called Ainsley Colton asking her what to do. The police were at his condo with a search warrant. They received a tip that the gun used to shoot Payne Colton, Colton family patriarch, was hidden in his closet. Lo and behold! They find a gun and arrest Ace. Ainsley doesn't believe Ace shot her father. She decides to call the best defense lawyer in the state, her ex, Attorney Santiago Morales. It's been five years since Santiago left her after they graduated from law school to take a job in New York City. He now is working in Phoenix. Fortunately he agrees to take on Ace's case but also asks her for a favor in return. His sister, Gabriela, returned from a marriage counseling week at The Marriage Institute just outside Mustang Valley with her prenup agreement signed off as null and void. Santiago believes something fishy is going on there so he plans to go undercover with Ainsley as a couple trying to save their marriage and avoid divorce. They both have bribes ready to see if the couple running The Marriage Institute will take the bait. Ainsley knew it was going to be tough being in such close proximity to the man she never quite got over for a whole week.
Santiago Morales was surprised to receive the phone call from his ex-girlfriend Ainsley Colton. It has been five years since their breakup. He still cares for Ainsley but still believes leaving her was for the best. He didn't think he was very good husband material. She deserved better. What a relief when she agreed to go undercover with him to investigate what's really going on at The Marriage Institute. He has moved to Phoenix from New York City so he is able to take on Ace's case as Ainsley has asked him to do. He would have taken the case even if Ainsley didn't agree to his undercover idea. Something is off with this counseling place. His sister should never have been talked into negating her prenup agreement before divorcing. He and Ainsley just have to ferret out the owners' secrets. He trusts Ainsley and is sure they will be successful. But at what cost?
Ainsley is the Colton Oil Company's tough corporate attorney. Santiago Morales is a brilliant attorney as well. I think they make the perfect couple. Santiago needs to overcome some misconceptions after the negative impact from his parents' marriage. The twists and turns to their HEA make for interesting reading. Then there's the overriding arc of the series, the baby switch and who shot Payne Colton. We get some insight into this in the story. The next book in the series is Deadly Colton Search by Addison Fox.
Book Info:

Publication: May 1st 2020 | Harlequin Romantic Suspense | Coltons of Mustang Valley #9
True love, second chances…
and a covert mission!
With her family mired in legal trouble, Ainsley Colton turns to her ex, ace attorney Santiago Morales. Soon, Santiago asks for help in return…going undercover as husband and wife to expose a dangerous scam. Working alongside him reminds Ainsley of what can never be. This scheme should be hazardous only to her heart—but when the stakes ramp up, "till death do us part" becomes all too real.