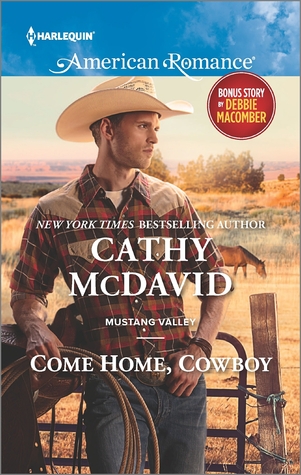 In Come Home Cowboy by Cathy McDavid, running a mustang sanctuary and caring for the wonderful horses helps take Cara Alvarez's mind off her own tragic loss. That, of her young son who died in an accident she believes she could have prevented. However, now that Josh Dempsey has returned to claim his part of his inheritance, she's been having trouble remaining impartial to his charm. The question is – can she deal with the fact that he has kids, or will she ruin her chances with him by running scared of that fact forever?
Just as with the first book of this series, Come Home Cowboy was a fantastic read encompasses second chances, a heroine needing to take a chance at love to help get over her tragic loss, and a hero opening himself up to someone again while adjusting to his new life on the family ranch. The way this book started by introducing the heroine and her past was a tad emotional. Yet, it sets the fast pace of the story and really made me want to learn more about what happened to her child.
As for the dialogue, there were some light-hearted moments between Josh and Cara as well as the main characters and Josh's kids that had me smiling. Cara really knows how to push Josh's buttons, especially since she thinks she can continue to deny the chemistry between them. However, there is some intense dialogue as well due to both the main characters back stories. I couldn't help but feel sorry for Cara due to the loss of her son. That wouldn't be easy for any mother to deal with.
"I saw you for the first time when Raquel called me in from the yard. I'd already made up my mind not to like you or Cole."
"Which changed the moment we met."
"Ha! You were every bit as aloof and cool as I expected. I didn't like you for a long time."
"Lucky for me, you came to your senses."
"Your children had a lot to do with it."
The main characters as well as the secondary characters made this story enjoyable. The way they band together to help each other revealed the strong bonds of the Dempsey family. As for the heroine, Cara really surprised me. She really grows throughout this book. At first, it's extremely hard for her to be around children. She's constantly questioning herself on whether she can handle being responsible for a child again because she wasn't capable of keeping her own safe. But the more time she spends with Josh's kids – even though there's an incident with one of them that spooks her – the easier it becomes to see she can have a future with kids again. Besides, her mustang sanctuary helps her once she teams with an institute that needs her help. While Josh, he's really good for Cara. He's kind and caring by aiding Cara whenever she needs it, even if she does have a difficult time accepting help. Then there's his determination to get Cara to become comfortable with his kids again by supporting her choice whether to spend more time with them.
Overall, this was a really sweet romance, which ended wonderfully with Cara finally realizing what she wanted for her future and Josh being surprised by one of his children. I would recommend Come Home Cowboy by Cathy McDavid, if you've read the first book of this series, or if you enjoy heroines with emotional back stories.
Book Info:

 February 1st, 2016 | Harlequin | Return to Mustang Valley #2
A COWBOY'S SECOND ACT
To provide stability for his two young children, retired rodeo rider Josh Dempsey returns home to his family's Arizona ranch, part of which is used as a mustang sanctuary run by Cara Alverez.
Working with horses helps Cara deal with a tragic loss. When Josh asks her for parenting help in return for his support with the sanctuary, Cara is torn. She is captivated by his adorable toddler son and baby daughter but isn't sure she can survive another blow to the heart. Unless a cowboy looking for his own second chance can show her how to love again.
Enjoy a special bonus short story from #1 New York Times bestselling author Debbie Macomber, MY FUNNY VALENTINE