Country Hearts by Cindi Madsen is a fun small-town romance. The author has produced some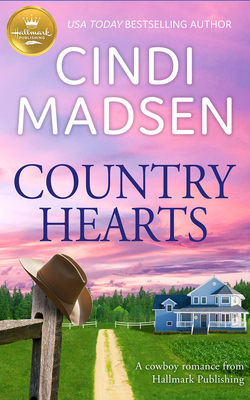 wonderful characters, from quirky, noisy and yes, matchmaking townsfolk to kids full of personality and reality, to charismatic and sweet Bailey Rae Langford, Wyatt's adorable daughter, to the two main characters Jemma and Wyatt.
Where else do horses come knocking on your door and snakes make surprise appearances besides Haven Lake, Colorado?
Elementary school teacher Jemma Monroe has lost her job teaching in Denver, fell in love with a guy who only wanted to be friends and now the only job she could find is a temporary position in small-town Haven Lake, CO. How did her life fall apart this way? So now here she is in a small cottage in the very outskirts of town and when she responds to the knocking on her door she finds a horse there. What? Following behind the horse in the pouring rain appears a tall, handsome cowboy. YeeHaw! That's how Jemma meets next-door neighbor Wyatt Langford. Too bad he wasn't as welcoming as she could have wished.
Wyatt Langford didn't have the best first meeting with his new neighbor Jemma Monroe. His second meeting didn't go much better. It just firmed up his first impression of a city girl not suited for country living. He'd warned her about the snow and the roads yet she drove her city car like a novice and ended up in a ditch. When he stopped to help her out there she was dressed in an inadequate-for-the-cold weather coat and heeled boots. Heeled boots! City slicker! He couldn't really be attracted to her. Could he?
There are humerous scenes such as the time the kids in Jemma's class and Jemma too run screaming when they saw a snake hanging down from the ceiling duct. Hero third grader Chase Matthews caught the snake and contained it until it could be returned to the fifth-grade classroom it escaped from. I liked the efforts of the the local coffee shop owner and the principal of Jemma's school to help Jemma and Wyatt see that they did indeed love each other. I liked Cindi Madsen's voice throughout the story. I bet most readers won't get the Chatty Cathy reference by Wyatt when he described his daughter's constant chatter. Chatty Cathy was a talking, very popular doll first produced in 1959 and only available from 1959 to 1965. I had one of those dolls in my youth. Loved it. Small-town romance readers are going to really enjoy this book.
Book Info:

Publication: December 21st 2019 | Hallmark Publishing |
She shouldn't get involved with the cowboy next door…
Laid off from her teaching job in the city, Jemma Monroe takes a job teaching in a tiny town and rents a house on the outskirts. A visitor soon shows up at her door—a horse. His owner, a handsome neighbor in boots and a cowboy hat, comes by to collect him.
When single dad Wyatt Langford meets Jemma, it's the first time he feels interest in a woman since his wife left. But she's his daughter's new teacher, so they both know they should keep their distance.
Nonetheless, Wyatt keeps finding excuses to spend time with Jemma, and Wyatt's daughter becomes more and more attached to her. With them, Jemma discovers the good things about country life, from starry skies to s'mores cooked over a fire. But she still misses her past life in the city. Is there any reason for them to dream of a future together?