In The Graveyard Shift (Charley Davidson #13.5) by Darynda Jones, One minute Garrett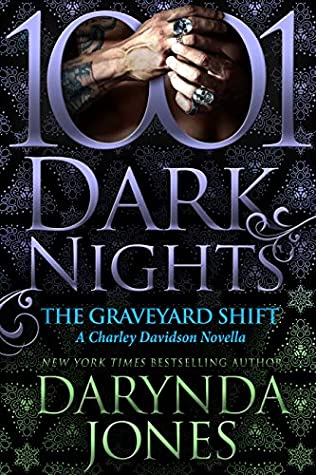 Swopes was watching over Charley Davidson and Reyes Farrow's five-year-old daughter and the next moment she vanished into thin air. And that poses a big problem considering she's the half-god, half-mortal prophesied to save the world one day. Garrett enlists the help of the other Guards as well as his former girlfriend–and baby mama through trickery–Marika Dubois. She has supernatural abilities to see beyond the veil. Which, as no one can predict where the daughter of gods could end up on her own, will come in handy. But that's if Garrett can convince Marika to help. And also before Reyes and Charley realize their daughter is gone.
'Garrett had one job… Watch his best friends' daughter, Beep, a kid who just happened to be destined to save the world from a catastrophic demon uprising.
He failed.'
Oh. My. Word. Charley Davidson is back!! Well, sort of. The Graveyard Shift was an exciting novella that packed a huge punch and brought us back into the mayhem, the humor, the caffeine, and the awesomeness that is Darynda Jones' Charley Davidson universe.
"Garrett, what do you think drives my every heartbeat? My every waking moment? Our son… He is all that matters."
Just about anything I say regarding The Graveyard Shift will be a spoiler. What I can tell you? As you'd expect from Darynda Jones–and this being a 1001 Dark Nights novella–it answered a couple of questions and it also set the stage for what's next. And can I just say that it was SO nice reuniting with the Charley Davidson crew, now known as Team Beep. I've missed their crazy antics and the camaraderie. Thankfully just about everyone was accounted for in this story, allowing us to see how five years has changed the team since we saw them last.
As much as this was about Beep's disappearance, Garrett and Marika's relationship was also a big focus. I've loved Garrett since day one. Smart, strong, fiercely loyal, and with his mysterious past and sexy dry wit, I think readers have been waiting for him to find his own true love. Marika I honestly wasn't too sure of. But her previous actions were explained, and paired with her upbringing, everything made much more sense why she made the choices she did. Expect lots of twists and turns (and one doozy at the ending!) for Garrett and Marika along the way.
Charley Davidson fans won't want to miss this thrilling story. The Graveyard Shift can be read as a standalone, but if you're new to the series, be forewarned: you'll be compelled to go back to book one, First Grave on the Right, and will soon be devouring all thirteen installments. They're just that wonderful.
Book Info:

Publication: Published June 9th 2020 | 1001 Dark Nights Press | Charley Davidson #13.5
Guarding a precocious five-year-old who is half-human, half-god, and 100% destined to save the world is no easy feat.
Garrett Swopes was the ultimate skeptic until he met a certain hellion and her husband. They vanished after stopping a catastrophic event and left him, a mere mortal, in charge of protecting their gift to mankind. But when she disappears as well, he needs the help of another breed of hellion. One who can see past the veil of space and time. One who betrayed him.
She will get a truce in the deal, but she will never earn his forgiveness.
Marika Dubois's son—a warrior in the coming war between heaven and hell—was foreseen long before his birth. But to create a child strong enough to endure the trials that lay ahead, she needed a descendant of powerful magics. She found that in Garrett Swopes and tricked him into fathering her son. A ploy he has never forgiven her for. But when he knocks on her door asking for her help, she sees the fierce attraction he tries to deny rise within him.
And Marika has to decide if she dares risk her heart a second time to help the only man she's ever loved.
Every 1001 Dark Nights novella is a standalone story. For new readers, it's an introduction to an author's world. And for fans, it's a bonus book in the author's series. We hope you'll enjoy each one as much as we do.