Crowning His Lost Princess is a May 2022 release that Caitlin Crews has crafted in her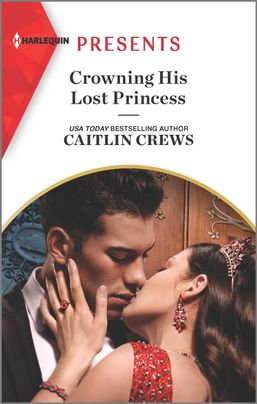 modern medieval style that I quite enjoy for a change.
When the mighty Warlord Cayetano arrives at her Kansas farm claiming Delaney is his long lost Queen, he may as well of told her he was an alien; for her peels of laughter rang loud and wide. Unexpectedly Delaney is swept into a world completely foreign to her corn fields. She's bewildered how she can be a missing princess swapped at birth letalone a key to save a kingdom. Despite the scariness of it all the tall, dark and fearsome Cayetano makes Delaney feel the Queen she's learning to become but the last thing in his plan is love.
Caitlin Crews has this wonderful way of writing medieval characters in a modern world. The language suits, the fearsome warrior suits and the beautiful Queen suits. I really enjoy the flow and i felt the pull of each character. Delaney was a funny and beautiful queen, inside and out and I loved her paring with the mighty Cayetano and the Epilogue they had was beautiful. The darkness of the mood was brilliantly captured and the imagination ran wild.
I really, really enjoyed Crowning his Lost Princess and I very much look forward to book 2.
Book Info:

Publication: May 2022 | Harlequin Presents | The Lost Princess Scandal #1
After years searching for the lost princess of Ile d'Montagne, notorious warlord Cayetano Arcieri's tantalizingly close to taking back his country's throne. The toughest part? Convincing innocent Delaney Clark to claim her rightful place—by wearing his convenient ring!
Down-to-earth Delaney had no intention of ever leaving her family's farm…until she learns she's a princess, switched at birth! Now, in Cayetano's mountain castle, the only thing that feels real is their electrifying chemistry. But surrendering to it means becoming Cayetano's bride…and one day, his queen!