In The Firefighter's Pretend Fiancee (Shadow Creek #5) by Victoria James, Molly Mayberry is back in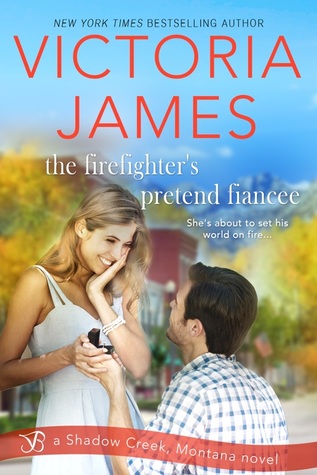 Shadow Creek for a year to work at the local hospital. Unfortunately, there's no way she can avoid her ex and the man she still loves. However, when Ben Matthews comes to her asking for her help, Molly agrees, even though playing his pretend fiancé isn't going to be easy. Will Molly and Ben get their second chance at happy ever after or do the hurts of their pasts have too much of a hold on them to ever give each other another chance?
She nodded. "Yes, I have tomorrow night off."
"I'll meet you there?"
"Fine. So we go see your mother and pretend we're a couple. Ben…I have no intention of getting married, ever. I'm not staying in Shadow Creek long enough."
"Uh, this is pretend. I have no intention of this being anywhere near real. I won't be dropping down on one knee again, Molly."
Every book of this series has been absolutely incredible due to the depth of emotion Ms. James puts into her stories and the extremely entertaining main characters that have heartbreaking back stories and I've got to say that this fifth book of this wonderful author's Shadow Creek series was another fantastic addition. The way this story started with the prologue drew me in immediately, as the hero and heroine had such a loving relationship, which had me reading quickly, determined to discover how things went so wrong between them.
As for the dialogue, it was intense due to the main characters back stories, especially that of the heroine and I could understand why being back in Shadow Creek is so hard for her. Will Molly ever be able to forgive her mother because of what happened in the past? Will Ben be able to convince Molly that they deserve a second chance at happiness? Moreover, I was absolutely charmed by both the main characters, as they've been through so much and I could understand why Ben would do anything for his mother and to get the promotion he wants, even if it means asking the woman that once broke his heart for help. Will Ben and Molly be able to fool everyone that they are back together and happy?
She looked down at the ground, unable to deal with the hurt in his eyes. "People change, dreams change. Maybe this is too hard because you knew me before. I'm not the same."
He threw his hands in the air. "Neither am I. I don't know what's around the corner for me or you. What if I get hurt in a fire? What if I can't work as a firefighter anymore? What if one of us gets cancer? When you love someone enough, you get through it with them. It brings you closer. I know you – I know if something happens to me, you'd be by my side. Why can't you let me do that for you?"
With the heroine, she's resilient and courageous to have overcome so much, even though the only way to get past her guilt over what she did to Ben is to work herself to the bone. I also liked that she worked towards having a relationship with her sisters again after having distanced herself from them for so long because she couldn't open up to them about things that happened in the past. While the hero, he's confident, driven, protective of the heroine and I liked how determined he was to prove to Molly that she can trust him since he wants nothing more than to have her back in his life. Really, what happened in the past wasn't her fault and I liked what he does for her when it comes to her mother. No way will he allow the woman to continue to believe she did what's right by Molly when the heroine was at a very vulnerable moment in her life.
"I'm sorry," she whispered. "I'm sorry for not being as strong as you, for being a coward." She stopped speaking and attempted to regain her control.
"Don't," he said, wincing again and coughing. "Don't apologize to me; don't say you're not as strong as me. You're the strongest person I know. You're the most beautiful person I know. I'm hoping to hell you're saying all this to lead up to something big."
Overall, Ms. James has delivered a marvellous and emotionally-animating read in this book where the chemistry between Molly and Ben is tangible and off-the-charts, the romance was on the sweet side and had me loving how these two found their way back to each other; and the ending had me crying happy tears, especially after what happens that makes Molly realize how much she loves Ben and how much she wants a second chance with him because he's the only man she's ever loved. Furthermore, the epilogue wrapped this story up wonderfully, as Molly and Ben are so happy together and I like how it sets up – what is hopefully — part of the storyline for the next book of the series because of what happens to someone that the hero and heroine are so grateful to because they helped get the pair back together. I would recommend The Firefighter's Pretend Fiancée by Victoria James, if you enjoy second chance romances, the fake relationship trope or books by authors Sonya Weiss, Coleen Kwan, LE Rico and Jennifer Shirk. I would also recommend readers have tissues at the ready when reading this book as it does take you on quite the emotional journey.
Book Info:

Publication: September 10th, 2018 | Entangled Bliss | Shadow Creek #5
Leaving Shadow Creek nine years ago was the hardest thing Molly Mayberry's ever had to do…except maybe returning. She's never regretted her choice, but a chance of a lifetime position at the local hospital means going home and facing her past, including her shrew of an estranged mother and the fiancé she ran out on. Ben Matthews is still the sexy, sweet man she left behind…and apparently still her fiancé.
Ben has been doggedly pursuing the position of fire chief since he was a teenager. There's just one problem—he has to show his boss he's ready to settle down. No matter how silly the condition, Ben will make it happen. And apparently so will his brother when he opens his mouth and decides to tell everyone Ben and Molly are engaged. Now the one woman he never stopped loving is living with him in a fake relationship, driving him crazy. Pretending only reminds him how right they were once, but if Ben gives in to the heat building between them, heartache is sure to follow.