Her Favorite Rival by Sarah Mayberry: One of MY favorite story themes is when the hero and heroine start off all sandpapery and sparky with each other. This is most definitely the case here. The book starts when Audrey shows up to work early in order to impress her new boss. Before he makes an appearance, her co-worker Zach Black derails that plan. Zach is a couple years her junior, in age as well as experience, but his CV is stellar and he can charm the pants off anyone to whom he pitches. Audrey hates that he gives off the vibes of an easy life, money, and is simply full of smirk.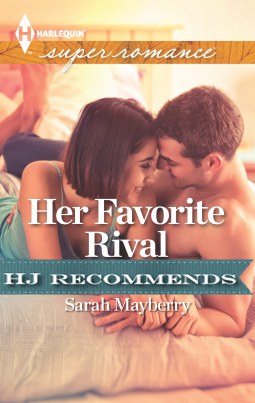 Zach admires Audrey Matthews. He recognizes that she's his only equal in the office, and it doesn't hurt that she's cute and funny. When she assumes he's had a privileged upbringing, it smarts. He doesn't want it to bother him, but Zach has to put things right between them. After all, they have to work together on a big project, and it just won't do to have her resenting him the whole time.
Neither of them expected to become friends while putting together the facts and figures that might get either one of them promoted, but that's exactly what happened. When a flirty comment puts a stall to their conversation one day, neither of them know what to do with the sexual tension either – but it'd be wrong to act on it. They both agree on that. What is it they say about "The best laid plans…"?
Her Favorite Rival is the companion book to "Her Favorite Temptation". I absolutely LOVED these two books. I dig books in a series, but these could be stand-alone as well. The scenes between the two sisters in each book simply add to the backstory of the character featured. The events run roughly parallel in both stories, so you get to see a couple of events from two perspectives.
What I enjoyed the most however, is that this book is just so… real. No over-inflated arguments, no unnecessary angst over miscommunication, and not even a lot of denial about the feelings between the two main characters. The stumbling blocks are things that I can easily imagine in a real-life setting, and handled adroitly with maturity between Zach and Audrey.
I highly recommend both of these books. In fact, I don't think you could go wrong with any Sarah Mayberry book.
Book Info:

Publisher: Harlequin Superromance (September 1, 2013)
A new meaning for office politics Audrey Mathews has worked hard to get here. Now she's up for a promotion and nothing will stand in her way—including Zach Black. He's hot, smart and the competition. When they're assigned to the same project, she's shocked at how much she actually likes about him…and how much she misjudged him.
Before long Audrey is seriously falling for Zach—and indulging in an affair that's against company policy. And the stakes rise when it's clear only one of them can get ahead. So where do they draw the line between competition and love? Especially when she doesn't want to lose either the promotion or the guy….