Defending Morgan by Susan Stoker is the third book in her Mountain Mercenaries series. Getting to know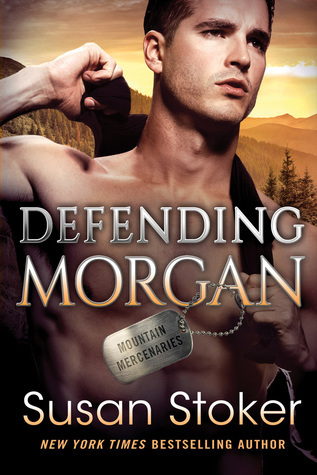 each of these dedicated men is a real treat. Getting to know the women they fall in love with is also quite a treat. Susan Stoker has a special knack for depicting dedicated, honorable and brave heroes in her stories. Her ability to write super tough, super resilient and loving heroines is legendary.
Arrow Kane and two of his Mountain Mercenaries brothers are in the Dominican Republic to rescue a kidnapped five-year-old little girl. When he breaks into the dilapidated house where little Nina is being held he is shocked to find a woman with a crude knife bravely standing in front of Nina ready to protect her. Who is this woman and why is she here? Turns out she is famous missing person Morgan Byrd who disappeared in Atlanta a year ago. How fortunate for her that the Mountain Mercenaries are here and came to her rescue.
When Arrow and Morgan must separate from the others they face much danger as the men holding Morgan are desperate to recapture her. Running and hiding together forms a special bond between Morgan and Arrow. Keeping Morgan safe is now Arrow's main goal. He has never felt so attracted to a woman before and wants to explore what the future might hold for them.
I know when I start to read a Susan Stoker romantic suspense story that I will be reading a realistic depiction of men and women who find the strength to survive harrowing events and come through strong people on the other end of the devastation. I totally enjoyed making the recovering journey with Morgan and seeing her through to her HEA. I loved that Arrow called Morgan "Beautiful" from the very beginning. Arrow deserved this beautiful soul and his HEA with her.
Anyone looking for an engaging journey of guys and gals overcoming hardship and devastation and ending up with true love and happiness will most certainly enjoy reading this book.
Book Info:

Publication: March 5th 2019 | Montlake Romance | Mountain Mercenaries #3
Protection leads to passion in New York Times bestselling author Susan Stoker's dangerously hot Mountain Mercenaries adventure.
Dispatched to the Dominican Republic to rescue a kidnapped child, former Navy SEAL Archer "Arrow" Kane makes a startling discovery: another hostage—Morgan Byrd, a very beautiful and very well-known missing person who disappeared off the streets of Atlanta a year ago. She's brave, resilient, and unbroken. All Arrow wants to know is why she ended up in a shack in Santo Domingo. All he feels is the desire to protect.
Morgan is done being the victim and is determined to find out who hates her so much that they want her gone—but not dead. Until then, she has Arrow, an alpha stranger who's offering a warm and safe place to hide. But as the passion between them flares, so does the fear that whoever took Morgan will do anything to get her back. For Arrow, protecting this woman with a mysterious enemy is the most dangerous mission of his life. And it's worth every beat of his heart.