Friends With Benedicts by Staci Hart: Life has not been the easiest for Presley but she and her mother have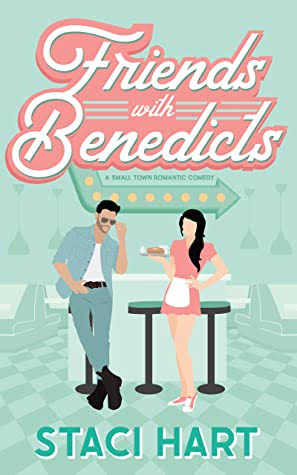 always made it work just fine, with her summers in Lindenbach been a highlight, which is exactly why when things in California go south Presley packs up her family and head back to the small Texan town. The only issue being this time she is hiding one major little detail that comes in the form of her super cute little fire cracker daughter; Priscilla. Hopefully now that she is back in town she will finally be able to track down Sebastian Vargas and share the news that their last steamy summer together also gifted them with the sweetest little girl.
"Because today, she was mine in the most elemental of ways. There was nothing between us in this simple place. Only me and her. And I'd take every minute I could."
Sebastian is back in town for the summer and to help take care of his mother and Abuela and then it's back to the Peace Corps for him. When he heard that his old flame Presley was also back in town he definitely didn't think that she would rock his world in such a different way this time. However having the responsibility of a little human has definitely changed his outlook on life now and his once wandering soul now feels very much drawn to staying home with the cute mother and daughter duo. If finding out he is now a dad wasn't a shock enough it would seem his ex-father-in-law the current mayor of Lindenbach is hell bent on crushing the small town economy by bring in a huge chain store, with the town divided will Bastian and Presley be able to help save the town they love while trying to figure out how to make their summer flings into something more.
I absolutely loved reading Hart's latest novel, this author is immensely talented and has a way of just grabbing a reading and immersing them in the story. Friends With Benedicts was the perfect combination of small town romance mixed in with a heart warming second chance story and to make things even more delectable Hart added in a nice little twist.
"Lightning struck me dead to the spot— shock, I realized distantly. The sensation was followed by the frying of my ovaries like a couple of unsuspecting eggs. Sebastian Vargas had that effect on me and my eggs."
I absolutely loved both of these two main characters and their cute daughter Priscilla. I really liked the extra dynamic that their families added to the entire story and that they all played such a major role in Presley and Sebastian coming together. Presley was amazing, I loved that she never gave up even when things got difficult. I have to say I liked the way she handled the entire Marnie situation. Also how cute was her relationship with Priscilla? Oh Priscilla was just brilliant all on her own, I loved that she instantly clicked with Sebastian and his family, and basically had the entire town wrapped around her tiny fingers.
"In moments like this, everything was simple. Every choice was easy. I was meant for him, and he was meant for me. Simple as that."
Sebastian was pure perfection, I really liked the way he took the news of Priscilla, especially with how he felt about having kids. It was probably the cutest getting to see him bond and connect with Priscilla, he was a complete natural. As for his relationship with Presley, boy oh boy was it steamy! These two were just made for each other and anyone with eyes could see this.
Love story aside, Hart added in a bit of town drama to the mix that I absolutely loved! Who doesn't love getting to see a town rally together to try and save their homes and livelihoods. I loved the turn of events and seeing the least likely person come to their aid.
I absolutely loved following Sebastian and Presley on their journey to happily ever after, this is definitely a book that I would recommend any romance lover read! I can not wait the Presley's cousins to get their books, the Blum sisters definitely have something exciting coming… hopefully soon.
Book Info:

Publication: June 8th 2021 | Pub: Staci Hart |
Timing is everything.
Presley Hale and Sebastian Vargas are no strangers to goodbye. Their high school summers were spent wrapped up in each other until she would inevitably go home to California. One season after college, Sebastian finally escaped the little Texas town to travel the world, and they said goodbye for what they thought might be the last time.
Sebastian went one way. Presley went the other.
For the first time in five years, they're both in town, but the timing is no better than ever. So the only thing to do is what they do best. Keep it casual.
Friends with benefits.
They've done it before—doing it again will be easy.
But their hearts don't get the memo.
When the lines of their arrangement blur, Presley and Sebastian are faced with decisions they've avoided for years. And that's not even their biggest problem.
A small town in danger of failing.
A secret that could tear them apart.
And two hearts that can't hide anymore.
They've shared so many summers, but none compare to what they'll face.
Timing is everything.
And their time is almost up.