Don't Breathe a Word (Texas Justice #2) by Christie Craig: Juan Acosta is still dealing with the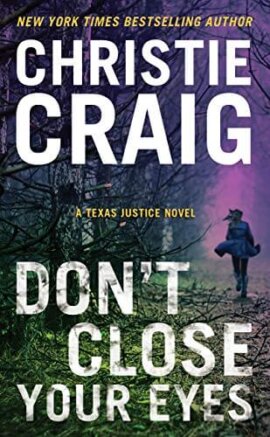 guilt he feels when his police undercover job led to the death of his wife and unborn child. He is watching the video his wife insisted they make for their unborn child when his dog, Sweetie insists on going outside. Her insistent barking draws Juan to look outside and he sees someone jumping the fence into his new neighbor's yard. Police mode kicks in and Juan rushes to stop a burglar.
The potential burgler throws a rusty old charcoal grill at Juan as Juan rushes him. The grill hits Juan in the head. That's not going to stop Juan. He starts to chase the potential burgler as he climbs the fence when Juan is yanked back and attacked. Does the perp have a partner? Nope. Turnsout the new neighbor, Nikki Hanson thought Juan was the intruder and takes Juan down, kick to the balls and all. Not the best way for two neighbors to introduce themselves. Juan has questions about this new neighbor who seems to be living in fear. Just what is her story?
Don't Breathe a Word by Christie Craig is the second book in her Texas Justice series. Three Anniston, Texas police officers have been assigned to the police department Cold Case Unit. So far they have been quite successful at solving the cold cases they have investigated. In this story the cold case Juan Acosta and his partners are invesigating has a tie-in with Juan's neighbor's major problem. There's plenty of action and mysteries to solve. Nikki and her "daughter" Bel face much danger and Juan is right there to help keep them safe. I really enjoyed reading this story andliked how Juan and "Nikki" make a go of their attraction to each other despite their baggage. Expect danger, thrilling action and lots of lovin' in this story.
Book Info:

Publication: November 5th 2019 | Forever | Texas Justice #2
New York Times bestselling author Christie Craig returns with her next heart-stopping romantic suspense about a woman on the run and the man trying to uncover her secrets.
Police detective Juan Acosta doesn't only carry scars on the outside. He's filled with guilt and anger ever since his undercover job led to the murder of those he loved the most. Now he's living for one thing: revenge. That is, until Juan meets his beautiful new neighbor.
Vicki Holloway prides herself on being capable and independent, but her life is turned upside down when her sister Sara is killed by an abusive ex. Fearing for the safety of her niece, Vicki and the little girl go into hiding…resurfacing in Texas with new identities.
Juan finds his once-frozen heart thawing around Vicki, but he knows she's hiding something. Juan needs answers, but Vicki isn't talking. She has to keep her secrets if she wants to keep Bell safe, which means resisting her growing feelings for the sexy, scarred man next door. But when Juan's quest for justice brings danger to her door, divulging the truth might be the only thing that keeps her alive.
Includes the bonus novella "Hot Target" by April Hunt!