It's Complicated by Nikki Prince: Ashton and Keiko have been friends since college, and for just as long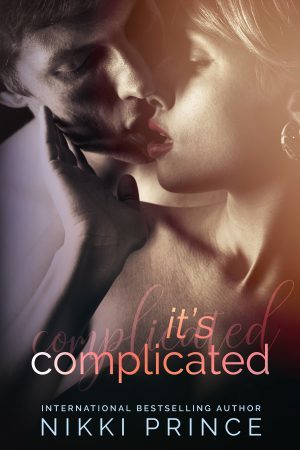 they've been attracted to one another. However, neither one ever wanted to ruin the friendship with each other or with their close group of friends. But when Keiko decides to change that, to offer a friends with benefits situation, with Ashton, a whole lot changes.
Ashton doesn't believe in love, not after watching his parents fall apart, so he's especially hesitant. It takes Keiko promising to not fall for him and to leave their arrangement as happy as she entered it for Ashton to agree. But once they start, both see their might be a whole lot more than just friends to their relationship.
But more becomes at stake when a relationship from Ashton's past starts intruding upon theirs. Together, Keiko and Ashton will have to navigate their new relationship and old ones.
I liked who the characters were. Both Keiko and Ashton are fun, likable, and both are certainly passionate about one another. I can't help but adore that in a romance.
However, I just could not get into this story. The writing and development just didn't work for me. The conflict came mostly from Ashton's past relationship and work. As a couple, the two moved along pretty smoothly, and that made the story a bit boring for me. The writing, too, I found difficult. It felt very stilted and unnatural. I don't normally like to comment on the writing, but it really stood out and kept me from engaging with the romance and characters.
Overall, for those who love friends with benefits along with a hint of danger I recommend IT'S COMPLICATED. The couple are passionate and obviously close, and I do root for them to be together.
Book Info:

Publication: April 10, 2018 | Tule Publishing |
Ashton Locke has had a thing for Keiko Jarrett since college. So when she proposes adding friends with benefits to the mix, he's intrigued, but wary. Sure, he's always wanted her, and is definitely not ready to settle down with anyone, but what happens if one of them crosses the line?
Keiko is ready to take her flirty friendship with Ashton to the next level of hot. But she never bargained for feelings to intrude and cause complications. She laughed at Ashton's hesitation and promised she'd remain heart-whole.
Some promises are meant to be broken and as Keiko and Ashton's "benefits bleed in all aspects of their lives, Keiko needs to convince Ashton that love is worth the risk.