Emerald by Elle Casey: When Emerald's sister finally forces her to leave their hippie commune for a visit in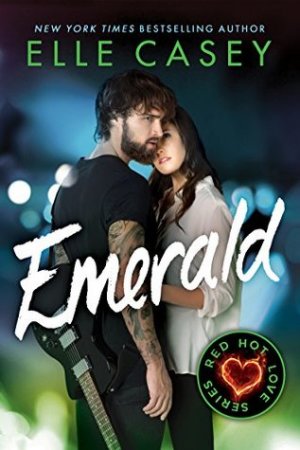 New York City, Em is introduced to an entirely new world. She's never left, nor has she ever wanted to leave, her home. But after her sister left and decided to stay in New York with their newly discovered rockstar fathers, Em is pushed into accepting a reality she's tried to refuse.
While Em can easily see the city isn't for her, she never expected to meet a man who'd make her fall hard and fast; let alone one who is an intense, private, and stage-shy musician. When she's left alone with Sam after her sister is called out of town, she begins to uncover his secrets, and an intimacy develops between the two.
Following Sam to L.A. to deal with a tragedy in his family, Em is further pushed out of her comfort zone, but she's quickly finding reasons why it may be worth it. Returning back to her farm with Sam, and the surprise of her fathers, Em has to decide what she wants out of life and whether she can even go back to the routine of before.
I liked this story more than I expected to do. It was definitely a rough start for me because I did not like Em that much. She was too fearful, stubbornly so, and overall irritating to me. I like a bolder character. However, as she was pushed out of her comfort zone, she became more interesting and engaging.
Sam, too, was not my type. I can work musicians, even angsty ones, but he was a bit too much of a jerk, and I just don't feel I got to know him enough. I can definitely say I prefer double POVs romances over a single POV.
Overall, EMERALD was okay. Em and Sam had passion, and at times they each surprised me and made me like them more than I expected. This is the second in a series, and I would recommend reading the novels in order because there is a bunch of back story surrounding the fathers that I just did not know enough of as I read.

Book Info:
Olivia| 3.5 Stars | Nope! | No |
Publication: April 12, 2018 | Montlake Romance | Red Hot Love #2
A million reasons to go home. One hot reason to stay.
Emerald Collins is nothing like her strong-willed sister Amber. When she found out her father was a member of the legendary rock group Red Hot, sensitive Em was determined to carry on as normal—she had no interest in finding out more about her dad or leaving her quiet sanctuary in Maine.
But while visiting Amber in New York, Em meets Sam, a tortured, sexy, and utterly unsuitable musician. Sam and Em are used to life behind the scenes but their undeniable attraction is about to put them right in the spotlight.
When Sam reveals a shocking secret about his past, Emerald has to make a choice. Will she follow her head and return home or is the magnetism between them and the excitement of the big city enough for her to follow her heart?