For the Love of a SEAL by Dixie Lee Brown is book #3 in her Hearts of Valor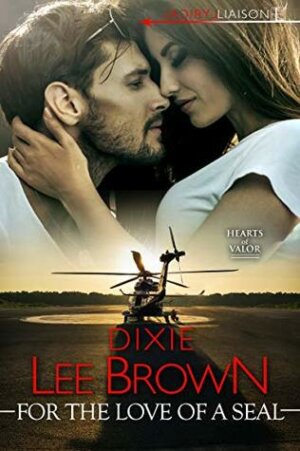 series. This series has been action-packed and full of exciting reading. For the Love of a SEAL carrys on the excellent series page-turning, great reading.
Toni Michaels is a widow and single mom to six-year-old Isaiah. She has been assigned the task to interview former Navy SEAL and and current PTS Security agent Blake Soreneson for Everyday Heroes magazine. If she gets the interview she is sure she will be hired full-time at the magazine. She really really needs this job. She's lost her home and moved into a rental, but doesn't have enough money in the bank to pay this month's rent. She WILL get this interview!
But Blake Sorenson doesn't give interviews even to sexy ladies wearing red stiletto heels that make her legs look a mile long. Nope! No way! Toni isn't taking "No" for an answer though. As Blake gets ready to take off in his helicopter to deliver supplies to a safe house Toni hops in. Blake knows he should kick her out and get going. But those red stilettos…
Thus starts the beginning of the up and down relationship between Toni and Blake. Could become a really rocky road! She wants nothing to do with a guy in the military or ex-military. He suspects she may be a plant by the law and hate group he and his fellow agents have been hired to find while protecting the man and his family the hate group is threatening. Not exactly the ideal situation for Toni and Blake.
The characters are full of life and very likeable. Dixie Lee Brown introduces the conflict in this story with a bang and brings it to a satisfying resolution. There is emotion, suspense, fun and sexy times in this book. Great job Dixie Lee Brown!

Book Info:

Publication: April 9th 2019 | Lyrical Liaison | Hearts of Valor #3
On every deployment, Navy SEALS face impossible odds—and succeed. But winning over the perfect woman will be the most challenging mission yet . . .
This is Blake Sorenson's story.
The security company that former SEAL Blake Sorenson works for helps him stay in fighting form—physically and mentally. He has little time for distractions of the female variety, which is fine with him. His fickle ex-wife taught him that love and loyalty don't mix. Which is why he should eighty-six the rookie reporter he finds in his helicopter. The sexy stowaway in red stilettos is sure to be trouble . . .
A single mom, Tori Michaels can't afford to lose her job because of an impossibly arrogant ex-sailor. But hitching a ride with Blake puts her right in the middle of a conflict brewing between the law and a dangerous hate group. When suspicions are raised over which side Tori is on, Blake has to choose whether to trust in her innocence or lose her. But in choosing to protect her, he's making himself vulnerable to a desire he thought he'd never feel again—and an enemy he doesn't see coming . . .