Vengeful Vows by Yvonne Lindsay: Sometimes our past directs our future in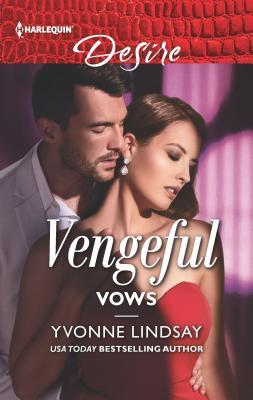 ways that we can't imagine.
Peyton Earnshaw had grown up with the belief that her situation was based solely because of one person. She had grown up in a complicated at best manor and now that she was on the cusp of almost gaining what she had been planning for. The only problem is the old saying best laid plans.
Galen Horvath wasn't sure what he was doing any more. In the blink of an eye he went from single wealthy playboy to father. In another moment he was at the end of the aisle meeting his bride. When did his life get so turned around? Would he be able to every get a handle on things again?
Peyton was determined to get her revenge, and Galen was determined to do right, neither one wanting to engage in feelings. The problem with feelings, they aren't like a faucet you can turn off and on.
WOW Ms. Lindsay has a way at pulling at your heart always, but this one messes with your head as well. Never say never and go back and question your whys, these are points she tries to drive home. Her dissection of Peyton's mental and emotional status is interesting and keeps the reader wondering will she or won't she for most of the novel. Ms. Lindsay also makes Galen a great example of dominant male with a teddy bear inside. While I wish she had delved more into him I personally LOVE what she did with his character and how she was able to make him universally relatable. This is above par and needs to be on your TBR shelf.
Book Info:

Publication: April 2nd 2019 | Harlequin Desire |
USA TODAY Bestselling AuthorWhen she says "I do," her plan is set in motion… An arranged marriage to Galen Horvath is step one in Peyton Earnshaw's revenge against his family. For his part, the CEO only agreed to an arranged marriage to provide a stable home for his young ward. When desire ignites between them, Peyton starts to dream of a future with Galen. But what will happen when her secrets resurface?