From Mistake to Millions by Andrea Laurence:  Switched at birth? Sounds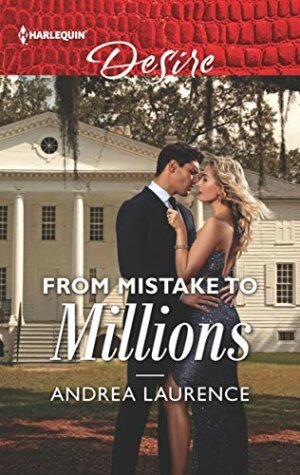 like a plot from a bad movie, right? That's what Jade thought until there were certain things she could no longer explain.
Jade Nolan had always known she looked different from her family and to be honest she never felt like she really fit in. When the DNA tests came back and it showed she wasn't related to anyone else in her family she just knew. Her perfectly ordered life just continued to implode. She needed some sort of order and thought maybe finding out about her birth family might just be what she needed.
Harley Dalton couldn't believe it when he saw her name run across his desk. How could it be? His forever girlfriend the one he had loved in high school was involved in a case his company was about to take on. Could he stay away? Or was he about to get his feet wet back into investigations?
When the temptation is strong Harley needs to know why Jade left him. Jade needs to know what happened in her past. Now as they both discover what happened in the past they are both struggling to figure out what the future holds.
This was an unanticipated novel from Ms. Laurence. I didn't know what to expect but even halfway through it there were parts that would come as a surprise. It is book one of two part though the story between Jade and Harley does HEA within these pages. The suspense does not. There are many things that I could talk about with this book, but what she focuses on and what I want to is that family is family and love is love. What this means is that Ms. Laurence is about love, beyond the hero and heroine. Love can be found in many forms and you will love seeing it in multiple levels throughout this story.
Book Info:

Publication: Published June 1st 2019 | Harlequin Desire | Switched #1
The only thing more dangerous than discovering her life is a lie?
Falling for Harley Dalton again.
Reeling from the discovery she was switched at birth, Jade Nolan reluctantly joins forces with her ex-lover, security specialist Harley Dalton, to find her birth family. As they search for answers amid lies, Jade and Harley quickly rekindle long-denied passions. But will finding out the truth—and a secret worth billions—jeopardize their precious second chance?