In Ghost Seer by Robin D Owens, Accountant Clare Cermac has spent her adult life avoiding her great-aunt Sandra and the craziness that surrounded her as a "medium." Now Clare is inheriting not only her great-aunt's estate since her passing, which includes a sizable sum of money, but also her aunt's "gift." Unfortunately she doesn't believe in the paranormal, but as she begins to see apparitions,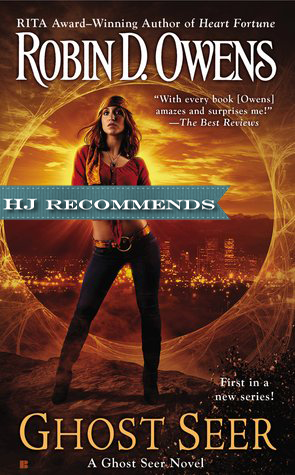 including that of her aunt's dog Enzo, she starts to question her own sanity. Especially when the ghost dog begins communicating with her.
Enzo cocked his head as if listening, then drooped a little and said, "If you don't accept your gift that you can see ghosts, then you will die. And if you accept that you see them but don't help them, you can go crazy." Clare sobbed. Exactly what she'd always feared–madness.
A chance meeting throws Clare and ex-cop Zach Slade together and they hit it off as friends with a chance of something more. She's definitely interested in the complex guy, and even though he has an injured leg that ended his police career, she doesn't see him differently than any other man. Things get a bit complicated when Zach learns of Clare's supposed gift so from there she steels herself to handle things on her own. But it would be really great to have the assistance and moral support of tall, dark & handsome Zach…if he can get past her weird life.
He said, "I don't believe in ghosts, Clare."
She stared him in the eyes, her own hazel eyes showing more brown than green. "Zach, neither do I. That's the big problem here."
Zach Slade became a cop after tragedy struck his family when he was younger. He's always been proud to serve and protect the public. Then he was shot in the line of duty, changing his career path forever. Turning down a desk job, Zach leaves Montana to go back to Colorado, where he can visit his mom and look for a new job. He gets an opportunity to work for a private investigation firm where he feels respected and needed for the first time since the accident. And he also meets intriguing and beautiful Clare Cermak. She seems a lot like him at first, detail oriented and likes things precise and controlled. Then he learns of her newly inherited gift and he wonders what he's gotten himself into. But he also worries about how close her gift is to that of someone in his past, and what it could mean when he starts accepting what Clare does.
'And then he understood why Clare had slipped under his defenses and into his heart more than anyone else in a long, long time. It wasn't that Clare didn't know he was "disabled." It was that she made absolutely no fuss over the fact. Just a minor part of him being Zach Slade.'
Ghost Seer is a paranormal/fantasy novel with a unique plot and solid characters that were quite intriguing.
Doing a bit of research on this new series, I am surprised that I haven't yet read anything else by Robin D Owens. She has a large catalog of work in the paranormal genre that has done incredibly well. And I can see why after reading Ghost Seer. The characters were very well defined, making it easy for the reader to get a sense of exactly who they each were. And the plot–ghosts from the Old West in the late 1800s being thrown into modern time for help "passing over" was really interesting. I do have to say that I loved Enzo the ghost dog. I'm a sucker for animals as part of a storyline anyway, but the way his "thoughts" were presented…it reminded me of Dug from Disney/Pixar's Up! Definitely had me smiling and chuckling during his scenes. (Tell me that's not true when you read this, too!)
I thought Clare and Zach were equally easy to relate to, the way they were written. They both embodied the qualities typically found in their professions as well as both being very caring. They wanted to do right by those in their lives, which was a driving factor when Clare began to figure out her new gift and what good she could do with it. I loved the history of the Old West in Colorado and the surrounding area being involved in the plot and how it brought out the researcher in Clare. It was a time period she had always been interested in, so it made me wonder if there was a reason for that or just a coincidence? I think my favorite aspect of the story was Clare's absolute acceptance of Zach's injury and when he realized how safe and content it made him to be in Clare's company. Such a wonderful bond between them.
I hope PNR fans will enjoy Ghost Seer as much as I did & I look forward to reading more about Clare & Zach's adventures in the future as well.
Book Info:

Published April 1st 2014 by Berkley
There's just something about Clare. Apart from the ghosts……
When her eccentric aunt passes away, no-nonsense accountant Clare Cermac inherits more than just a small fortune. She receives the gift of communicating with ghosts. While Clare may not believe in spirits, it's hard to overlook the shadowy talking dog appearing on her bed or spectral cowboys tipping their hats to her in the streets of Denver. And when she locks eyes with sexy—and living—Zach Slade, there's certainly no ignoring him either.
A former deputy sheriff, Zach is leaving a painful past behind in Montana for a new life in Denver as a private investigator, a job that has him crossing paths with beautiful Clare. Not that she minds. After the restless ghost of a Wild West gunman demands her assistance, Clare finds herself needing Zach more and more—and not just for help.