In Happily This Christmas (Happily Inc #6) by Susan Mallery, Happily Inc has been Wynn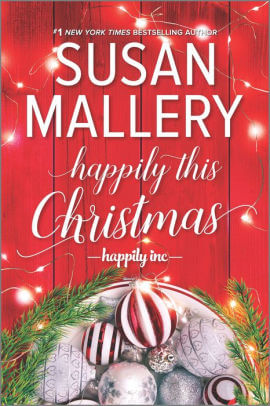 Beauchene's safe haven for many years. She loves the close friends she's made and the fact that her fourteen-year-old son Hunter gets to grow up in a small but thriving town. She's even made her print and graphic design shop a success. But Wynn's love life is lacking, to put it mildly. After making poor decisions about men early in life, she's finally ready to date. Her handsome neighbor, Garrick McCabe, enters the picture when he needs Wynn's help getting his house ready for his pregnant twenty-one-year-old daughter's visit with him during the holidays. It's the perfect opportunity to see if their attraction is the real deal. But is Wynn ready for things to get serious if it proves to be what she's been longing for?
'Her hunky neighbor was turning out to be one of the good guys.'
As captain of Happily Inc's police force, Garrick knows a lot about his hometown. Even after he spent a few years away on other assignments. But he doesn't know his gorgeous neighbor Wynn very well. Something he'd like to fix. Getting her thoughts on how to make his home more "cozy" for his daughter Joylyn seems like a good way for Garrick to test the waters and see if Wynn would be interested in dating. All signs point to yes as they spend time together. But Joylyn's anger and negative attitude toward Garrick and, well, everything makes it all more complicated. Thankfully Wynn isn't scared off. Instead, she and Hunter–and a few locals–help make his and his daughter's first holiday together in years more of a success than he could have hoped for.
"You need to talk to her."
"I've tried."
She looked at him without speaking.
"You're saying try harder?" he asked.
"I am." She stepped close and rested her hands on his waist. He pulled her close and hugged her.
"Kids are difficult," he murmured. "Even when they're grown up."
From the relatable life lessons nestled into the storyline to the familiar faces we love who helped out those in need, Susan Mallery delivered a charming holiday-themed romance in the most perfect of settings: Happily Inc.
'She had a feeling that while they'd been busy living their lives, she'd been slowly, quietly, falling in love with him.'
I've been looking forward to reading Happily This Christmas anyway, but even more so since I saw it was Wynn's story. Her dynamic within the close group of local friends will probably make more sense if you've read some previous books, but this can be read as a standalone where Mallery did give a lot of background on the single mom. It surprisde me, though, with a few tidbits we learned from Wynn's past, before she moved to Happily Inc. Between learning about her previous hardships, seeing her awesome relationship with her fourteen-year-old son Hunter, and watching her balance it all in stride, my opinion of Wynn was even higher by the end.
Neighbors falling for each other is always fun in a romance novel and it was clear from their first scene together that Wynn and Garrick definitely had strong chemistry. They were sigh-worthy-type adorable together. And the majority of their conversations had me chuckling with their attempts to flirt and sneakily see if they were on the same page. So Garrick's tough past was a revelation. He was such a laid back, compassionate guy that I almost forgot he was the local police captain and had probably seen and done things that would deeply affect him. I also loved that Mallery kept it realistic with Garrick, showing him making some blunders in the romance department but quickly fixing things. So darn cute!
We got to see things through Garrick's daughter Joylyn's POV as well, which honestly frustrated me at first but made me smile later on. Without giving too many details, there was a lack of communication on her part and on her parents' part over the years. And boy what a mess it made between them all. I did enjoy the caring side we saw in Joylyn regarding her unborn child and her Marine husband who was deployed overseas. I think she went through the greatest changes in her overall outlook on life out of all the characters. It took everyone around her to help, but she eventually got there.
Happily This Christmas had the lively banter and camaraderie I cherish in a Susan Mallery novel, plus it also gave that warm and fuzzy feeling the holidays bring that you want to wrap yourself up in all year long. Definitely recommended.
Book Info:

Publication: September 29th 2020 | HQN Books | Happily Inc #6
There's no place like Happily Inc for the holidays…
Wynn Beauchene has a thriving business, a great kid and a mildly embarrassing crush on the guy next door—local cop Garrick McCabe. She's a strong, independent woman who can't help dreaming what-if about a man she barely knows. Until he needs her help…
Garrick's pregnant daughter will be home for Christmas, and his house needs a woman's touch. Garrick and his little girl were tight once and he's hoping a small-town Christmas will bring her back to him. But thawing his daughter's frosty attitude will take more than a few twinkle lights. Maybe sharing the holiday with Wynn and her son will remind her of the joy of family.
As the season works its magic on these wounded souls, Wynn realizes it's time to stop punishing herself for a painful secret, while Garrick remains haunted by the ghosts of past mistakes. Will he allow Wynn to open the only gift she truly wants—his heart?