Single Dad Seeks Juliet by Max Monroe: Holley is over men and all the drama that comes with them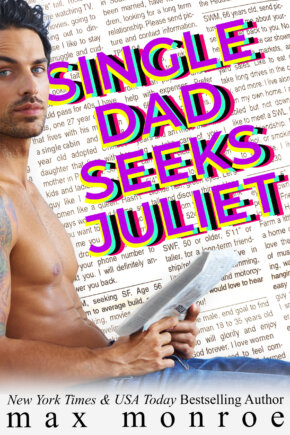 so when her editor tasks her with heading up a series of articles based of a bachelor style competition, Holley is less than thrilled but a girl got to do what a girl got to do. This is how Holley finds herself at the crack of dawn in the middle of the ocean trying to save a guy from drowning when she should be waiting to meet the lucky bachelor. Now this would make for a cool story if only the guy actually needed saving and she didn't turn into the one that needed to be saved! Oh and did I mention said drowning guy is Jake, the bachelor.
"Biceps and pecs and a six-pack, oh my! This guy is forty? Good grief, his body looks twenty-five, tops… Get it together , you little floozy! Stop staring at your assignment like he's lunch!"
For Jake his daughter Chloe is his entire world so much so that it would seem that he has forgotten his own personal life. But for Chloe this just won't do, with her time at home soon coming to an end and college fast approaching, Chloe takes it upon herself to give her dad the push he seems to need to jump start his dating life. Which is what prompts her to enter Jake into the local date a bachelor competition, now this would be such a cute bonding moment for the father daughter duo if Jake had known about being entered.
"She's a walking disaster— but man, she's beautiful."
Jake is a creature of habit so when the strangely cute woman that 'tried' to save him from drowning during his daily endurance training throws yet another curve ball at him by announcing that he is the lucky winner of the mystery bachelor competition, you can definitely say that his normal routine for the day is shot. Wanting to automatically turn down this crazy idea Jake can't help but feel some magnetic draw towards Holley. With a good deal of convincing from Chloe Jake reluctantly agrees to go along with this dating competition. Somewhere over the course of setting up the dates, going on said dates and then debriefing about the dates Jake and Holley find themselves being drawn closer and closer, with their combustible chemistry and easy banter will the two finally see what is right in front of them?
"She smiles. Man, does it light her up. There's something about her face— something so engaging. It's beautiful and cute and earnest at the same time . I've never seen anything like it."
I LOVED reading this latest offering by Max Monroe, these ladies write romance gold. Jake might just be my new favorite book boyfriend to date! There was nothing not to love about this sweet and caring dad. Not only was Jake a great dad with looks for days but the guy was genuinely a nice person. I absolutely loved the relationship that he had with Chloe and how they were their own little crew. As for Holley, oh my gosh, this quirky loveable character was everything, I absolutely loved hearing her crazy internal monologues and watching her ogle Jake. But what really sold me on this book was the absolutely ease with which these two characters fitted into each others lives and their hilarious adventures. Even while on the dates it was like Jake and Holley had their own inside jokes.
"I was drowning," I admit softly, making her chin jerk back slightly. "And you saved me. It just wasn't in the ocean.""Jake," Holley whispers. "You were exactly what I never knew I needed, Holley."
Now I do love a good secondary character and Phil Fields checked all these boxes right down to the tee. This guy is such a hoot, I absolutely loved Holley's dad and their hilarious text convos. Just read this book please, when you do you will know what I am talking about! I promise you a laugh out loud moment with these two.
Single Dad Seeks Juliet was hands down one of my favorite reads of 2020, this book had me laughing from start to finish and rooting for this couple to finally find their way to each other. I can not wait to see what Max and Monroe have planned for Garrett's story one thing I know for sure it will be brilliant.
Book Info:

Publication: October 13th 2020 | Pub: Max Monroe |
Dear Internet: Am I a horrible person for wanting to sabotage my work assignment—completely wreck a dating contest—because I hate the idea of love?
I know it sounds bad, but just hear me out, okay?
I (33F) work at a local paper, and two months ago, my editor assigned me a huge project—run the upcoming, highly anticipated Bachelor Anonymous contest.
In essence, I'm supposed to help a reader-nominated bachelor find his special someone, and while I should be excited to handle something of this magnitude solo, I can't help but get queasy over how gross it feels.
Like, how cheesy could this thing get?
Not to mention, I'm the last person who should be involved in this—my dating and relationship history is a cluster. Generally, the person in charge of these things shouldn't fantasize about lighting the whole three-ring dating circus on fire.
Anyway, men from all over Southern California, vying for the coveted bachelor role, submitted their personal ads to my paper. The readers voted, and Single Dad Seeks Juliet won by a landslide.
Enter Mr. Bachelor Anonymous (40M), the single dad Romeo seeking his Juliet.
Blah, blah, blah, right? Wrong.
You guys—and I cannot stress this enough—this guy is the ultimate man in a six-foot-three, chiseled-muscle, freaking Adonis package with aquamarine eyes that would haunt the dreams of an insomniac.
He's a former Navy SEAL, successful business owner, motocross-riding, charming, supportive, funny-as-heck single dad, and the more time I spend with him, the more I want to bring this contest thing crumbling to the ground for an entirely different reason.
Real talk: I think I'm falling for him.
Me, the woman who despises love, might be falling for the completely off-limits Bachelor who I'm ironically assigned to help find love, while five other women think they're the only contestants competing for his heart.
So, Internet. Am I scum? Or is all fair in love and war?