In Hard Play (Delta Force Brotherhood #1) by Sheryl Nantus, losing her dad was hard for Jessie Lyon and the only way she found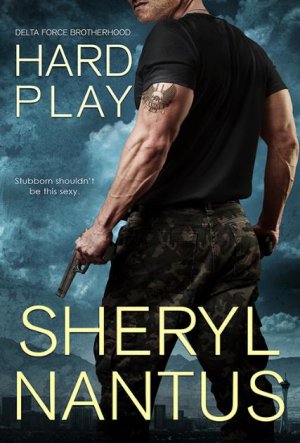 that would help her cope was to try and take down the man that turned him into an empty shell of the man he once was until his death. Except her plans go awry, and next thing she knows her whole world is turned upside down and she finds herself receiving help from ex-special forces Ranger Dylan McCourt. Can they together take down the man Jessie is after while finding the forever love they both deserve?
Jessie rolled her head back and closed her eyes. "I totally screwed this up."
"Yes and no. I'm not sure what I would have done, given the circumstances." Dylan's voice was calming, soothing her jagged nerves. "Do you think the original gunman, the one who shot your father, is still alive?"
"I suspect Molodavi sent him out of town after the shooting." She looked out into the night. "I like to think he's dead, a loose end tied up."
"Very possible. But you still went after his boss."
She sipped her coffee. "Molodavi gave the order. Buck stops with him."
What an exciting and wild ride Ms. Nantus takes readers on in this romantic suspense story, encompassing the sexy protector trope, a heroine out for revenge, a hero determined to help her and a bunch of secondary characters that would do anything for each other. The way this story started had me concerned for Jessie because of what her best friend relays to Dylan because she feels Jessie is in trouble and needs help. Will Dylan and his friends be able to find her? What sort of trouble is she in?
As for the dialogue, I was hooked by the hero and heroine's interactions and how determined Jessie is to have her revenge. Indeed, she's strong, brave and quite stubborn in the way she challenges Dylan when he gets to be a tad overprotective. Because she wants nothing more than to see the man that was responsible for hurting her father get what's coming to him and all the people he associates with. Can she finally take down the man that thinks he's untouchable? While Dylan, it's understandable why he has chosen to help those that need to hire someone with skills outside what the police can offer, because of what happened to him during his time in the military. Moreover, I liked the bond he had with the men he worked alongside and that they had each others' backs in an all-for-one-and-one-for-all, no man left behind way, which is proven when it comes to the action in this story.
"You're still recovering , getting your legs back under you."
Jessie couldn't help laughing. "I think I like them under yours. But point well taken."
Dylan grinned. "We'll sit tight for a few days, see which way Molodavi's going to jump. Rest, relax, and we'll see what happens."=
She reached out and touched his chin. "But what will we do with ourselves?"
He smirked. "Build lot of fires."
Overall, this story captivated me with its action and suspense, swoon-worthy heroes, intense chemistry between the main characters and has me looking forward to more of this series. The way this story ended was intense with what happens between the main characters and the bad guys, but satisfying in the end due to this couple's happy ever after. I would recommend Hard Play by Sheryl Nantus, if you enjoy romantic suspense or enjoy the KGI series by Maya Banks.

Book Info:

Publication: February 20th, 2017 | Entangled Publishing | Delta Force Brotherhood #1
Ex-special forces ranger Dylan McCourt is a stone cold killer who cares only about his military brothers and doing what's right. He's used to giving orders and has zero patience for bullshit. Most people tremble when they look him in the eye, but not his infuriatingly sexy new rescue mission, Jessie Lyon. She just juts her chin and says she's not leaving without clearing her father's name, to hell with his rules. And was that a one finger salute he sees in her eyes or his imagination? Either way, he knows this is one job his training might not have prepared him for.