He Claims Me is Book 3 in the Seen Trilogy by Cyntha Sax. See my review of Book 1, He Watches Me here and my review of Book 2, He Touches Me here. I've not really loved these books so far but this last one was much more fun to read.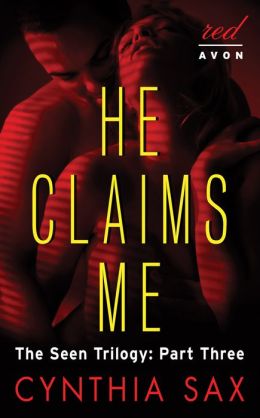 Anna is still weird, little Anna. But in this installment, I liked Anna a lot more. She starts to be more of her own woman and there's less focus on her "invisibility" issues. Sure, she takes strength from knowing that Blaine cares for her and that he would fight for her but she's still making that strength her own and that was so wonderful to see! In my other reviews, I mentioned that Anna's level of being broke was really distracting and that I found myself really worrying about her! I was happy to see that this was not an issue in Book 3, mostly because Anna's second job as Blaine's assistant's assistant pays really well. I loved how generous Blaine's assistant was to Anna. It was great to see someone being so genuine and caring towards her. Finally, Anna runs into quite a bit of trouble in Book 3 and I thought she handled it really well. She stayed calm and kept her head on straight. I think this was huge growth for her from the first book and I was thrilled to see it!
Blaine is still the sexy, mysterious man that he's been throughout the series. In this one, I had hoped that some, if not ALL, of his mysteries might be revealed. Alas, it was not to be. Anna mentioned several times, that Blaine had scars on his hands and his torso and that some of them looked like scars from bullet holes. I was hoping that he would reveal where he received those scars or maybe just some details about them, but nothing! Sure, he went to prison when he was younger but that doesn't explain ALL of the scars! I mean, I was hoping he was some kind of secret agent or that he was held captive and tortured and that would lead into getting more into his dominance stuff or something like that! Gah! It could have been so awesome! But it wasn't mentioned at all. To ME, it feels clear that Blaine is just a canvas that allows Anna to make changes in her life. He's her safety net. So although he's definitely not just scenery, I don't think he's supposed to be the reader's main focus. This is a little confusing since I would think most people reading this book would be women and that women would want at least a little more detail about the man in Anna's life; the man who enables Anna to fully become who she wants to be.
Finally, FINALLY there's Sexy Time! Yay! Masturbator lovers: fear not! There's still plenty of masturbating! But I was looking for a little more and I'm happy that I got it! The Sexy Time scenes were so hot. I never considered sex in a limo but holy cow, I'm sure as heck considering it now! I felt that Anna and Blaine are completely comfortable together now. Anna realizes the power she wields over Blaine when they are getting intimate at the same time that she's reveling in his power over her. Well, maybe not reveling… maybe she was relaxing in it! I totally identify with that! It's nice to occasionally be able to give up control and still feel safe, cherished and loved while letting go!
If you like hot and heavy erotic romance, you may want to skip Books 1 and 2 and go straight to this one. If you like a slow build, read all of them – IN ORDER! You don't need to have read all of them but I don't think you can read them out of order. If you have an aversion to the ceaseless use of the word "pussy", you may want to skip this whole series because I'm pretty sure no other word is used (other than "clit"). If you can overlook that, you may enjoy this hot little read from Cynthia Sax.
Book Info
Publisher: Avon Red (July 16, 2013)
A billionaire's desires and a virgin's wish to be claimed come together.
Two men want Anna Sampson. Gabriel Blaine is powerful, intelligent, the CEO of a successful company, and a billionaire. He's watched her, touched her, encouraged her to become a strong, independent woman, a woman unafraid of her desires.
Now secrets from the past are exposed, threatening Anna's freedom and safety. Will the man she loves stand by her side, or will he desert her, leaving Anna once again to face the future alone?
The searing climax of The Seen Trilogy.