Her One Night Proposal by Katherine Garbera: Hiring someone to be your date for a wedding?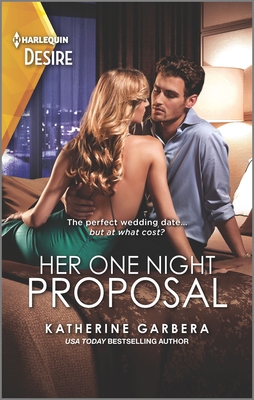 Sounds like a movie plot, right? Yet when you are in need anything can happen.
Iris Collins knew anything could happen, but she also knew she needed to help fate out, quickly. Her brand, her career, and somewhat her friend's happiness was riding on this one thing, could she bring a date, the right kind of date to her friends getaway weekend? Fate has a funny way of answering hard questions for you.
Zac Bisset needed money, it wasn't that he couldn't ask his family but he wanted/needed someone to believe in him and in his dreams. He didn't want to answer to anyone yet he wanted their faith. Sounds too good to be true, right? He was willing to work for it though and sometimes he knew that you just had to open your eyes and see what fate was putting into your path.
When fate brought together Zac and Iris, neither was ready for the other or what the other could do for them. Then a little stumble and a well place photographer changed everything. The only hitch was would they be able to stick to the plan? Or would this movie plot end up changing everything?
Ms. Garbera is a go to author and after picking up any of her works you will see why. This book is no exception. She has a way of transporting the reader into her world, into the lives of her characters and making you feel all the feels. The only real problem with this particular work is that it is the first of at least two and it will certainly leave you reeling and needed part two. The main story line does sort of have a happily ever after, but there are so many lines left swinging that the reader is left incomplete. So while this is a good story, wait until the next is out so you won't be left hanging in the cold.
Book Info:

Publication: Expected publication: April 7th 2020 | Harlequin Desire |
The perfect wedding date…
but at what cost?
She's about to get way more than she bargained for…
Iris Collins needs a wedding date, fast. And the billionaire who saved her from a public shaming is the best candidate yet. She'll invest in Zac Bisset's yacht-racing team in exchange for four days in paradise. After all, Zac is adventurous, sexy…perfect for a straitlaced heiress to show off on her arm. Until they land in her bed. Now their real connection—and the backlash of a family scandal—threatens their perfect facade…