In Hindsight by Sarah Belle, Juliette finds herself transported back to the 20th century accidentally and it happens at the precise moment when her present life is in a complete mess.In the present year her marriage and family are in meltdown because of her inability to find a balance between her career and family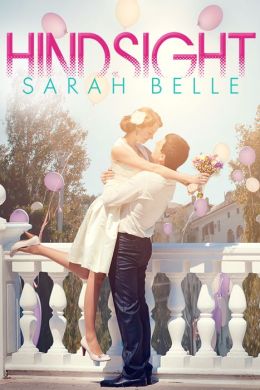 commitment without any success.To top it all another woman is trying to steal her husband away. So when she wakes in her lounge room in the year 1961, her life takes a new turn as she learns to be a proper housewife in an era devoid of any conveniences and comfort found in the present times.Along her journey she finds unexpected friendships, a resuscitated love life, tragedy and triumph,allowing her to finally understands her what really matters the most in her life.
Hindsight is a chick lit with a theme of going back in time and rediscovering yourself and maybe this has been used before but what made this story special were its lovable characters and the strong narration.The whole story is told through Juliette's point of view and she takes the reader to a wonderful journey of a myriad emotions. Sarah Belle has taken the usual elements you generally find in a chick lit and created magic.
Juliette,the main protagonist is not a saint and she has her share of imperfections,which makes her a perfect character because she was real in many sense and I could relate with her on most of the things.It was amazing how well she coped with her time travel and emerged a totally different person by the end of the story.
Hindsight is a nice,meaningful and enjoyable read and though some parts of the story are predictable,the reading experience was awesome and the journey Sarah Belle takes you on is simply amazing.
If you love chick-lit filled with lovable characters and strong narration then this is the book for you.
Book Info
Publisher: Escape Publishing – Harlequin Enterprises, Australia Pty Ltd (July 1, 2013)
Humour, wit, and just a touch of humility: the swinging 60s as you've never seen them before.
The universe has sent Juliette a sign. She wishes it had been an email instead…
Juliette's career is on fire, her marriage and family are in melt-down, and a red-hot goddess wants her husband. But those are the least of her worries when she wakes up on her lounge room floor in the year 1961.
Without any of her modern conveniences — nanny, housekeeper, surgically attached mobile phone, designer wardrobe, and intravenous lattes — Juliette is just over fifty years out of her comfort zone. But as she takes on the role of a 1961 housewife, with gritted liberated teeth, she discovers an unexpected truth: slower doesn't mean boring, at home doesn't mean dull, and priorities don't mean sacrifices.
As she finds unexpected friendships, a resuscitated love life, tragedy and triumph, Juliette begins to wonder if she really wants to return home after all.