The Rebel Who Loved Her by Jennifer Taylor is a part of the Bride's Bay Surgery miniseries. It tells the story of recently widowed nurse Becky Williams, who returns to Bride's Bay with her infant daughter and immediately bumps into Dr. Ewan Mcleod, the flirtatious rebel who once almost tempted her away from her fiancé.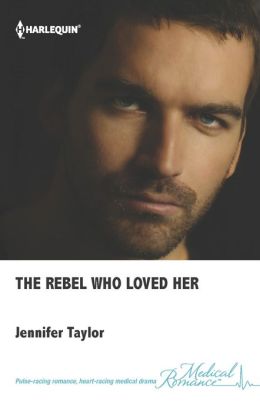 While her marriage was not a happy one and did not last for long, Ewan has changed a lot and still has the same effect on her as he did all those years ago. Becky can hardly offer herself to him now, especially as she's unable to give him the one thing he wants—a child of his own . Now with so many years between them, the attraction is strong as ever, will this time things work in their favour..??
"Things just get on top of me at times, that's all."
"It's only to be expected after everything you've been through."
The kindness in his voice brought more tears to her eyes, and she blinked
them away. "Perhaps. But I try to hold it together for Millie's sake."
"I can understand that, but you can't be brave all the time. It won't do you
any good in the long run."
He touched her hand, his fingers lingering for just a moment before he
turned to push the swing once more, but Becky felt a frisson of awareness
race from her hand and travel through her entire body. It felt as though every
cell was suddenly on fire, creating an immense amount of heat inside her. It
had been ages since she had felt this way, she realized. Not since those first
heady days when she had met Ewan at the hospital had a touch aroused her
so swiftly, so completely.
The Rebel Who Loved Her by Jennifer Taylor is written in a nice and easy to understand style. It started off a little slow for my taste and the romance started developing quite late but when it gained a momentum, it became very interesting. Ewan Mcleod was the perfect hero and I could not find anything wrong in him but the same coulde not said for Becky, who I did not warm up to for a long time. I did not understand her and felt the obstacles in the story would have eased a little if she had handled some things differently.
Overall, The Rebel Who Loved Her is a wonderfully written romance with a perfect hero. If you like medical romance and the author's previous works, you may like it. The heroine and the starting few pages could have better but it is a nice package overall.
Book Info:

Published July 2013 by Harlequin Medical Romance
Is Mr. Wrong the right choice now?
Nurse Becky Williams has returned to Bride's Bay, and she immediately collides with Dr. Ewan McCleod, the flirtatious rebel who once almost tempted her away from her fiancé. Her marriage didn't last, but Ewan—still very gorgeous—is a much changed man. Having passed him up once, single mom Becky can hardly offer herself to him now, especially as she's unable to give him the one thing he wants—a child of his own. Except Becky hasn't seen the depths of her onetime rebel's heart