In Colton's Custody by Dana Nussio  is the fifth book in the Coltons of Mustang Valley series. In this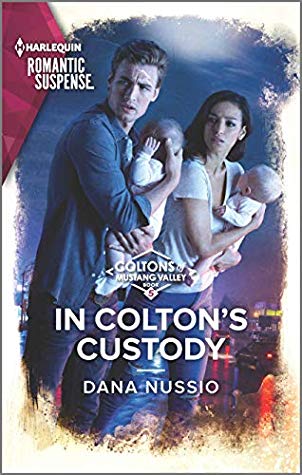 book we are reminded that the Coltons have lots of problems. Here threats to their business, Colton Oil and their Ranch, Triple R are blasting off the pages.
First it was the threatening letter. Now it's a call from Mustang Valley General Hospital that they received a call indicating that her beloved six-month-old daughter Luna might have been accidentally switched at birth. Single mom Willow Merrill is stressed. This can't be happening. Here she is in the hospital administrator's office and in walks the father of the other baby girl born on the same day as her Luna. He's a Colton. Willow hates the Coltons. But what if the baby he is holding is really her daughter? And -oh my- he sure is quite the hunk. As it turns out she has to deal with him until the results of the DNA tests come through. This could get interesting.
As if there isn't enough going on in widower Asher Colton's life with his father who was shot still in a coma and finding out his brother isn't really his brother because an anonymous tip indicated two babies were switched at birth and DNA testing proved Ace isn't really his brother by birth, now he gets a call that his beloved six-month-old daughter Harper might have been switched at birth and he needs to bring her to the hospital for DNA testing. This can't be happening. When he enters the administrator's office he sees Willow Merrill and her beautiful daughter Luna sitting there. Is Luna possibly his daughter? Willow sure is a beautiful woman. Can anything come from this attraction he has to her?
. Asher Colton is wondering if the Colton's enemy is also the person threatening Willow and Luna. There's lots of action and suspense with bomb threats, fires and disturbances on the ranch. The reader will be thrilled with fakes and crazies tossed into the mix. I liked that the overall arc of the main Colton problems continues here and moves forward. I find it quite interesting that the various authors writing this series integrate the Colton mystery so well. Next up in the series is Colton Manhunt by Jane Godman. Can't wait to see what happens next!
Book Info:

Publication: March 1st 2020 | Harlequin Romantic Suspense | The Coltons of Mustang Valley Book 5
A Colton must solve a DNA mystery…
…and save his family from ruin.
One phone call suddenly upends Asher Colton's life. He discovers his baby daughter might have been switched with single mom Willow Merrill's. Worse, the day care owner vehemently hates his family. But for the babies' sake, they work to uncover the truth about the births as threats to the Colton family—and Willow's business—mount. But can the truth set free a love-scarred rancher and his harshest enemy?