In In With the Tide (Cape Cod Shore #1) by Charlee James, Lindsey Hunter is finally moving on from her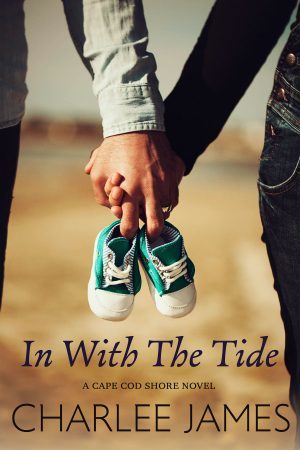 divorce, which includes moving back to Cape Cod to start a new life for her and her unborn child. However, she's not off to a good start being back in Cape Cod when her car breaks down. Luckily, Damien Trent comes to her rescue. But as the pair begin to reconnect and remember how good things were between them, Lindsey has to decide whether being with Damien is a risk she's willing to take, especially when the town doesn't hold good memories for him and he's not likely to stay. Will the pair get their shot at happy ever after?
 "I'm putting down roots," she said now, voice fiercer. "What about you? You only have a backpack."
"I'm pulling them up. I won't be staying long."
This is the second book I've read by Ms. James, and it's a story that I absolutely loved and launches a wonderful start to this series. Really, the main characters were enjoyable because of their back stories and the obstacles they face on their journey to happy ever after including whether the heroine can convince the hero to stay and whether the heroine can finally get her ex out of her life for good. However, it was from the moment the hero and heroine meet for the first time in this story where this story really takes off, as Lindsey is pregnant and alone and wary of people in a way she never used to be. Will Damien be able to win her over, especially when they've known each other for years, but haven't had any contact in that time?
 "I don't remember you being so cheeky," Damien said.
Lindsey's gaze dropped to her hands. "A lot's changed." She laced her fingers together. "Spending time with you reminds me of how I used to be."
"What do you mean?" His stomach shifted uncomfortably.
"I used to be so independent, and now…"
As for the dialogue, it was intense due to the main characters back stories, especially that of the hero, because he didn't have the easiest of times growing up that forced him to make a decision that could change his life for the better. In some ways becoming a marine did make things better, but his reasons for leaving the Marines and the things he witnessed during his time as a Marine have made it hard to reconnect with people and handle some situations. Will he ever overcome his past demons? Will being around Lindsey again make him realize that staying in Cape Cod could be a good thing? I also liked how the hero dealt with everything he discovers, especially when it comes to his family. While the heroine, she was resilient and courageous in moving back to her Cape Cod home alone and pregnant. I also liked how good of a friend she is to Damien because he needs someone to help him through times, especially because of the reason he's in town in the first place. Will cleaning out his father's house bring back memories he's tried his hardest to forget or will it finally help him heal old wounds? Yet, what I liked most of all about the heroine was her determination to help Damien when she learns of something that could reunite him with someone important that he's never had anything to do with.
 The day you stole my lunch box, you stole my heart. I've always loved you, Damien." Water sloshed up her legs as she closed the distance between her and Damien. She placed a hand on either side of his cheeks and pressed gently. "I'm ready to fight for this. For us."
Overall, Ms. James has penned an entertaining read from start to finish in this first book of her Cape Cod Shore series where the chemistry and romance between Damien and Lindsey is special and convincing, as they've finally found their way back to each other after so many years; and the ending had me crying happy tears because Damien needed to face his past to have any chance of a future with Lindsey. However, it was the words Damien and Lindsey say to each other in the moment where they repair their relationship that left me completely satisfied with ending. No way would they lose each other this time around. I would recommend In With the Tide by Charlee James, if you enjoy second chance romances; the friends to lovers trope; or books by authors Jane Porter, Sinclair Jayne, Kadie Scott and Rachel Gibson.
Book Info:

Publication: February 20th, 2018 | Tule Publishing | Cape Cod Shore #1
Lindsey Hunter never imagined she'd be returning to her Cape Cod home pregnant and divorced, but she's determined to build a new life for her and her unborn baby. When car trouble leaves her stranded on the side of the road, ex-Marine Damien Trent rides to the rescue on his motorbike. Once upon a time, they'd been friends and briefly, they'd been something more…until he enlisted and left her behind. As Lindsey and Damien reconnect, the attraction is still as strong as ever. But Lindsey's knows Damien's not the staying kind.
Damien would rather do anything than come home to deal with his father's estate. After years of abuse, he was more than ready to leave town the moment he graduated. With Lindsey back in his life, everything is complicated. He's used to being a lone wolf – until Lindsey and her newborn baby give him a glimpse of the kind of family and future he's always dreamed of. Can he be brave enough to reach out and grab it?