Incognito Ex by Geri Krotow is the eighth book in her Silver Valley P.D. series. This book is chock full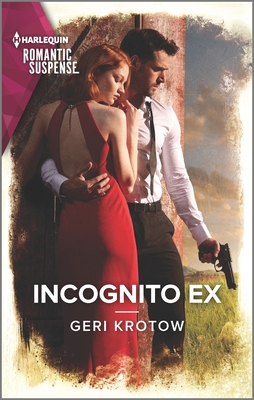 of action.
Coral Staufer left California after the devastating end of her marriage. She decided to go home to Silver Valley, PA to heal and get her act together. The idea of opening her own event planning business in her hometown appealed to Coral. So she followed through and Coral's Catering and Events was born. Business was going well until the beautiful historic barn on the property she inherited from her Aunt Brenda was destroyed in a bomb explosion along with half the farmhouse next to it.
Coral is now living in a trailer on the property so she can oversee the rebuilding of the barn and the repair of the farmhouse. When Coral heard men's voices outside her trailer she thought she was hearing teenagers passing through. She decided to investigate. It wasn't teenagers. Coral quietly reentered her trailer to get her shotgun for protection. She saw three men searching her field. Quietly she dialed 911 but unfortunately the men heard her. Even though she managed to get off a couple shots and wound at least one of the men she was apprehended. Two of the men threatened to rape and murder her. The third man remained silent. When Coral saw his face she was shocked. What was her ex-husband Trever doing here?
Trever Stone was in Silver Valley working undercover to get enough proof to take down the Russian Organized Crime Organization, ROC, that was flooding the area with deadly drugs as well as executing other nefarious activities all over the USA. Trever thought his ex-wife Coral was not home when he and the two other ROC thugs started their search operation on Coral's property. Their boss, Anna Markova, who was sitting in a jail cell after the bombing earlier in the year, sent them to find some things Markova had hidden on Coral's property which Markova desperately needed. When Trevor discovered Coral confronting them he knew he had to save her somehow even if it blew his cover. He never stopped loving Coral and wouldn't fail her now.
Coral's and Trever's lives are in danger and it's all they can do to stay alive. This close proximity and the fact that Coral now understands better the danger Trever faces in his job brings them together. The trick is to determine if they can make a relationship work. I enjoyed watching their struggles and eventual realization about they want in a relationship. Ms. Krotow has done a laudable job telling her story in such a way to thoroughly entertain her readers.

Book Info:

Publication: August 1st 2020 | Harlequin Romantic Suspense | Silver Valley P.D. Book 8
When she is targeted by a vicious mobster
A past love is her only hope
When a Russian gangster targets Coral Staufer, she is desperate for help. Coral stumbles across an undercover agent none other than the man she loved and lost, Trevor Stone. Trevor will risk anything to stop her from becoming a mob casualty…even risk his career to protect Coral. But when their past love reignites, their entire mission—and very lives—are at stake.