In Judd's Vow (Harlow Brothers #3) by Kaylie Newell, Savannah Casteele owes Judd Harlow big time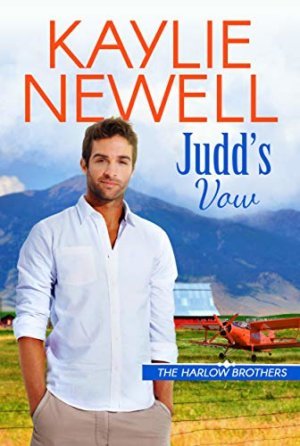 for offering to fly her and her son to Chicago for her little boy to have surgery because her son means everything to her. However, she never imagined she'd fall in love with a man scarred by his past as much as she is hers. Will Savannah and Judd be able to help each other heal from their pasts or will their shot at happy ever after slip by?
It is what it is," she said. "That which does not kill us makes us stronger, right?"
"Something like that."
"It has made me stronger. Doesn't mean I don't wish things were different sometimes, but Wyatt's loved, and he knows that."=
The Harlow brothers have charmed me from the very first book of this series and I couldn't wait to read Judd's story because he seems the brother most emotionally scarred by the past, as he and his brothers didn't have the best of life growing up. Yet, what they did have was each other, which has created such a wonderful bond between them and that's why they're so determined to raise their little sister after their mother's death. Will they be able to make life so much better for their sister than what they had growing up?
The way this story started drew me in from the very beginning and had me sympathizing with the heroine, as flying isn't something she's comfortable with and she's also worried about her son and his surgery. Will everything work out for the best? Furthermore, I enjoyed the dialogue and was entertained by this couple's growing relationship, as they become fast friends that aren't looking for a relationship but find themselves inexplicably drawn to each other like moths to a flame. Will Judd be able to win Savannah over? Will Savannah's need to protect her son keep her from giving Judd a chance?
="You can't say these nice things, all these nice things, and expect me not to fall for you. You can't make a calzone for me, and tuck me in at night when I have a fever, play card games with my kid, and expect me not to fall in love with you."
Oh, God…Oh, God…The words were out and hanging between them before she'd realized what she'd done.=
With the main characters, Savannah is strong, brave, a great mother that loves her son so much and wants what is best for him and I liked that she put her trust in Judd and his family, which is proven by the responsibility she gives Judd's sister. I also loved discovering what decisions Savannah would make when it came to giving Judd a chance and whether she'd do what's right for her son. Her ex really hurt her, so how could she trust that Judd wouldn't do the same? Then again, she had to have faith in Judd that he was a good guy and by everything he's done for his family, he certainly is.
While the hero, he's loyal, kind, caring, resilient and I liked that he would do anything to help someone in need, which is proven by what he does for Savannah. I also liked the close relationships the hero has with his siblings, especially his little sister Maddie. She seems so grown up for her age and I loved the advice she gives him because she wants Judd to find the same love and happiness her two other brothers have found. Yet, what I liked most of all about the hero was the hero's growing bond with the heroine's son and his determination to win the heroine over, even though he wasn't looking for a relationship for fear he'd end up hurting someone he cared about.
Overall, Ms. Newell has delivered a really good read in this book where the chemistry between this couple was tangible and convincing; the romance was delightful and had me loving that these two took a chance on each other, even though a relationship was the last thing either wanted; and the ending had me loving the hero's determination to show Savannah that she means so much to him and what a more perfect way to show her than the way he does, which was heart-warming and brought happy tears to my eyes. However, it was the epilogue that wrapped this story up nicely because of the surprise the hero has for Savannah. I would recommend Judd's Vow by Kaylie Newell, if you enjoy the friends to lovers trope or books by authors Joan Kilby, Jeannie Moon, Sinclair Jayne and Lara Van Hulzen.
Book Info:

Publication: February 7th, 2019 | Tule Publishing | Harlow Brothers #3
His heart has been grounded for so long. But she's about to give it wings…
Captain Judd Harlow is happiest in the air. It's only when he's flying that he can leave his childhood memories behind. But when he and his brothers find themselves the guardians of their 12-year-old half-sister, he knows moving back to the small Montana town where he grew up is the right thing.
When Savannah Casteele learns that a local pilot has agreed to fly her and her little boy to Chicago for a long-awaited surgery, she's overcome with gratitude. A young, single mother, her first priority has always been raising her son the best way she knows how. But when she sees Judd for the first time, she's unprepared for the affect he has on her heart: He's stoic, guarded, and a little out of reach, reminding her that she's not the only one who's trying to put aside a broken past.
As they begin falling for one another, brought together by the children in their lives, they start seeing family not just as something you're given, but something you create. And that the heart, no matter how scarred, is always capable of a tender, new beginning. But are they both willing to take a leap of faith to get there?