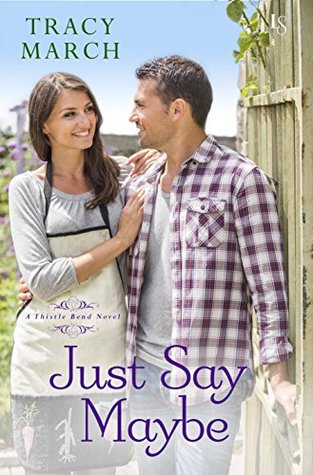 In Just Say Maybe (Thistle Bend #2) by Tracy March, Holly Birdsong is a small town girl through and through. She'll never leave Thistle Bend, even if she does meet Mr. Right; a handsome man that could very well change her life for the better, if she can accept the secret she learns about him.
"I'll give your dismount a 9.3, considering the way you stuck the landing without breaking anything." She winked.
Falling off his bike in front of a pretty woman isn't the way Bryce Bennett would want to meet her. Luckily, she's not the type to go all Florence Nightingale on him, and instead offers a way to cheer him up. The sort of offer that may prove the way to a man's heart is through his stomach. However, if he's to win Holly's heart, he's going to have to reveal the one secret that might just be too much for her to handle.
Having absolutely loved the first book of this series, I was so looking forward to this story, and I've got to say that it does not disappoint. As it encompasses the mysterious strangers trope, a hero determined to right his father's wrongs, and a heroine determined to help him. Even if the secret he's hiding proves to be something that she can't handle about him. The way this story started was really good and made me laugh, not just because of Bryce's accident but because of the playful dialogue that reveals the strong chemistry Ms. March has weaved between this couple.
The dialogue was well-written, and a perfect blend of intense and playful. Holly represents an interesting challenge for Bryce, because there is quite a bit of painful history between his family and hers. History that Bryce isn't aware of until it unfolds in the intense dialogue from Holly's point of view. The pain that she and her granddad suffered brought tears to my eyes, and made me feel a tad sorry for Bryce since he was determined to right the wrongs that his father made for Thistle Bend.
I really liked both the main characters, as well as the secondary ones. The people of Thistle Bend really care about Holly, and don't want to see her get hurt. Something Bryce has the capacity to do with his secret, as proven when Holly misjudges him towards the end of the story. How could she honestly think he'd do something so devious after learning the history her family has with the property he's looking to reinvent and make a success of?
The heroine is strong, brave and loyal. She'd do anything for her grandfather, and proves it with her kindness; her need to help him. Then there's her determination to help Bryce solve a mystery that they discover while touring his new property; a mystery that might give him more knowledge about why his dad did what he did. Yet, what I liked most about Holly was that she gave Bryce a chance, even knowing that he might leave town, if he didn't have a good enough reason to stay.
Bryce kept his hand firmly on hers. "Sounds like a challenge."
She shook her head. "I think you've got enough to keep you busy right here."
He squeezed her hand and, skimmed his fingertips lightly along the satiny skin on the inside of her wrist. "Don't worry, darlin'," he said in his sexiest drawl. "I'm one hell of a multi-tasker."
While Bryce, he's charming, kind, caring, and tenacious. He's so determined to make the property he's bought a success; the success it could have been if his dad had been a decent man. He's also hoping that by doing something good for Thistle Bend that it would right the wrongs his father caused. However, what I liked most about Bryce was the kindness he showed Holly's granddad.
Overall, this was an incredible book where the sex scenes were scorching, and illustrated how good these two are together. Despite the fact that Holly isn't certain – at first – that she wants to get involved with Bryce, because she thinks the hero won't stay in Thistle Bend once he fixes the property he bought.
Ms. March wrapped this story up nicely with the name of the new pass in town, as well as Bryce's last words to Holly. He proves to her how perfect she is to him, and I liked how it linked back to the dialogue when the hero fell off his bike. I would highly recommend this book, especially if you enjoy small town romances.
Book Info:
Becca| 4.5 Stars | HJ Top Pick | No |
Publication: May 3rd, 2016 | Loveswept | Thistle Bend #2
Real estate lawyer Holly Birdsong's hike in the Rockies takes an unexpected turn when a smokin'-hot stranger tumbles off his bike and into her path. Turns out he's purchasing the abandoned Lodge at Wild Rose Ridge, and Holly agrees to take him on as a client—despite her family's traumatic history with the previous owner, who shamelessly abused the town's goodwill at every turn. But when their professional relationship turns personal, Holly must reconcile the past with her hopes for the future.
Adding the rustic lodge to his portfolio of adventure properties isn't just a business decision for Bryce Bennett. The rugged mountains also offer a killer setting for his extreme-sports camps for at-risk teens. What's not in the blueprints is finding a kindred spirit in his irresistible lawyer, even if she seems apprehensive about getting involved in the deal. Bryce's plan to ease her mind just might work, as long as no one discovers his secret. Yet he can't stand hiding the truth from the woman who makes him want to build something permanent: a happily ever after.