In Legacy of his Revenge by Cathy Williams, crashing into Matias Rivero's expensive sports car was an accident, but Sophie Watts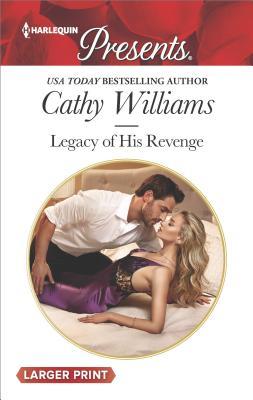 never imagined it would lead to having him propositioning her. Working as a chef for a weekend party at his house is his way of making her pay off her debt. However, Matias has an ulterior motive for wanting to be around her, and once she learns what that motive is, will she give him a chance to make things right between them or will she walk away from her chance at happy ever after?
"If I had a girlfriend, we wouldn't be having this conversation."
"We don't even like one another," Sophie breathed, "and that's why we shouldn't be having this conversation!"
"Do you have a boyfriend?"
"What if I had? Would it make a difference?"
"Possibly." He tilted his head to one side. "Possibly not. Why do you compare yourself to other women?"
What an intriguing and fast-paced enemy to lovers trope encompassing story Ms. Williams has penned in this story that entertained me from start to finish due to the main characters back stories, which were intense and a tad emotional and had me hooked by the hero's desire for revenge. How far is he willing to go to get his revenge against the heroine's father? The way this story started had me sympathizing with the heroine, as the hero is determined to get his revenge one way or another, even if it means using her for his own personal gain. However, it was from the moment the hero and heroine met that drew me into this story completely, as the heroine doesn't have a lot of choice but to accept the hero's terms when it comes to his proposition.
Both the main characters are likeable, even if the hero can be an arrogant jerk at times, believing he can get his way anytime. However, the heroine isn't so easy to fall into line with everything he wants and I liked that she challenged him at the moment where things went awry in their relationship. Will the hero be able to accept her leaving him and then accept the moment she comes back into his life again? Furthermore, I liked how determined the heroine was to get the hero's help when it came to her father's company, as she has her reasons for wanting her father's company to prosper again. Will she be able to take care of the one person she loves more than anything without her father's money to support her? While the hero, he's confident, arrogant, tenacious and I liked how determined he was to win the heroine over once he realized how much she's come to mean to him. I could also understand why the hero would do anything to get revenge against the heroine's father, as the man did wrong by the hero's family and deserved to lose just as much as Matias's family did when the heroine's father did wrong by the hero's father.
"I was barely aware of it myself. We never expect the things that take us by surprise. Love took me by surprise."
"As it did me," Sophie confessed, so happy that she wanted to laugh and cry at the same time. "When I first met you, I hated you."
Matias's eyebrows shot up and he shot her a wolfish smile. "Yet you still managed to find me incredibly sexy…"
"Don't be so egotistical, Matias." But Sophie couldn't resist smiling back at him because he could be incredibly endearing in his puffed-up self-assurance. "I thought I was going to see Art an instead I was shown into the lion's den."
Overall, Ms. Williams has delivered an utterly enjoyable enemy to lovers story in this one where the chemistry between this couple is charming and had me wondering how long it would take for the pair to give into their feelings; and the ending had me sympathizing with the heroine because of the hero's accusations when it comes to someone she cares for. Clearly, the truth hurts since the heroine has been keeping a secret, but I liked how it brought Matias and Sophie closer, as he begins to realize how wrong he was about Sophie when they first met because she would do anything for someone she loves. Furthermore, I loved the hero's words to the heroine about how her being in his life is the best thing that's ever happened to him because she's bought him love, family and happiness. I would recommend Legacy of his Revenge by Cathy Williams, if you enjoy the enemy to lovers trope, the revenge trope, or books by authors Lynne Graham, Jennie Lucas , Clare Connelly and Susan Stephens.
Book Info:

Publication: November 21st, 2017 | Harlequin Presents |
Exacting his revenge…in the bedroom!
Sophie Watts is mortified when she crashes into billionaire Matias Rivero's luxury sports car. But even worse is his proposition that she work off her debt by becoming his chef for a glamorous weekend party at his mansion!
Having Sophie at his beck and call is a golden opportunity for Matias to find out everything there is to know about her father—the man who ruined his family. He'll seduce the truth out of her and exact his revenge… Except Matias doesn't count on their passion having unexpected nine-month consequences!