Let It Be Me by Jody Holford: Megan has been a nanny for single father Adam's son for five years now, but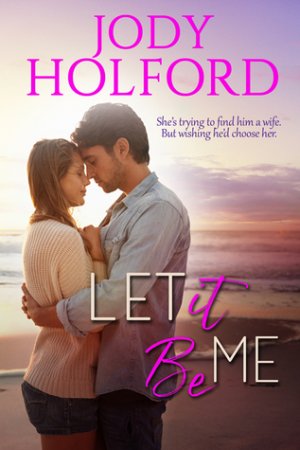 she's moving on to teaching and needs to find her replacement. While Megan and Adam have always been polite, they've never really gotten to know one another beyond dealing with Charlie.
However, that's about to change as Adam asks Megan to find him a wife instead of a nanny. Adam has been hurt in love in the past and all he wants now is a good stepmom for his son and pleasant arrangement for himself.
But as Megan and Adam become closer as they enter this wife search, Adam may discover only love will provide him his happy ending. And Megan will discover her uptight boss has a whole other side.
If you love the nanny trope this is definitely the romance for you. The author took that trope and made it a whole lot more interesting with the strong development of the characters and the wife search.
I loved both Megan and Adam. Adam was certainly uptight, but not in a too obnoxious way. He was endearing, especially when he let go with Megan. And Megan was just an overall sweetheart; she calmed Adam and brought out the fun.
The story definitely had a lot of Charlie, which isn't my favorite. I'm not a big fan of kids in romances, but if you are I certainly recommend Let It Be Me. It's very much centered on the family, even as it includes plenty of sexy tension between Adam and Megan.

Book Info:

Publication: January 29, 2018 | Entangled Amara |
Megan Carter's spent the past five years nannying for a pint-size boss—the adorable Charlie—while also navigating her full-size boss, his somewhat grouchy, way-too-methodical dad, Adam. Now that she's finally moving on, helping Adam find her replacement should be easy…except he doesn't want another nanny. He wants a wife.
Adam's been burned by love in the past, so of course he believes finding someone who can be a partner in raising his son is all that matters. Too bad the woman helping him search is the biggest believer in love at first sight and happily-ever-after he's ever met.
Even as Adam's funny, charming, and—who would have thought it?—super-hot side starts to come out, Megan knows that without love, a family would never be complete. But convincing Adam of that might be harder than she thought.