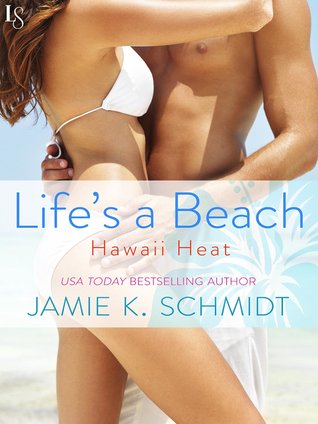 In Life's a Beach (Hawaii Heat #1) by Jamie K. Schmidt, Amelia Parker had everything arranged for her and her boyfriend to spend time away, except he turns out to be a total jerk and she ends up going on vacation with her aunt instead. Except the moment she arrives in Maui, she's disappointed that the hotel isn't the luxuriant place that the brochure represents. There is one good thing to come out of the disaster her life has become…the mysterious 'Dude'.
Samuel Kincaide has been doing his best to get away from the business world, for fear he'll end up burning out like his mentor. Instead, he spends his days slacking off as 'Dude'. Spending time with Amelia is amazing, but the fact that he's lying to her about his identity will not win him the woman that has managed to worm her way into his heart, if she learns the truth. When Amelia's life is threatened, Samuel will do anything to keep her safe, even if it means revealing his secret and losing her trust in the process.
We'll have plenty of time for that later," she said, pushing her hair back over her ear, feeling suddenly shy. "I'm not usually like this. I just want to be reckless and carefree. I really would like to be your lover for the next two weeks. But this is the last time I'm asking."
"Sunshine, it was a done deal as soon as you smiled at me."
"I wish we weren't on such a curvy road," she said. "I'm feeling a little naughty."
This was a really good book to start off a new series for Ms. Schmidt, and although I wasn't hooked from the very beginning, I found it quite entertaining once Amelia decides to still go on her vacation. For a heroine that has lost everything – her job, apartment and boyfriend – she impressed me and her road to happiness provided a wild adventure, the hope of a new beginning and even a touch of suspense due the trouble Amelia finds herself in. What will happen to her? What choices would she have to make for her future? As the story progressed those questions kept racing through my mind, and made me eager to discover the truth.
The plot, the growing relationship between Amelia and Samuel as well as the dialogue made this story fast-paced, and I loved the teasing banter between this couple; as Amelia was completely different when she was with Samuel. She's reckless and carefree with him, yet any other time she's very responsible. She's quite bold with Samuel as well, especially when she's on the phone to him and she believes he's 'Dude', because she doesn't know his true identity.
"I'm a very good driver." Amelia wondered if she sounded like Rain Man. Yeah. Really good driver. She sighed. Might as well get it over with on the way to coffee. "Fine, you can come with me, but no backseat driving."
"Sweet thing, if I'm in the backseat we won't be driving."
"I'll keep that in mind."
I really liked Amelia. At the start, I felt sorry for her because she loses everything in a short space of time, but she's resilient and tenacious not to allow it to affect her for long. Sure, she's annoyed by it to start with, but being in Maui is a good place for her to turn things around. But what I liked most about her was her resourcefulness when it came to talking her way into getting a job and how she was going to turn things around at the resort she was staying. It was like she could talk her way into anything, if she felt strongly enough about it to do so.
While Samuel, he did annoy me when he was first introduced, although I could understand his desire to be 'Dude'. It helped him relax for the first time in a long time. He didn't want to keep driving himself into the ground – so to speak — before it was too late, and end up suffering the same fate as his mentor. Yet, Samuel did win me over the more time he spent with Amelia. The heroine has serious trust issues after everything that happened with her ex-boyfriend, so I knew she wouldn't handle Samuel lying to her very well, but he's very persuasive when it comes to winning Amelia back.
Convincing Samuel to take her up on her offer is harder than she thought, but it's worth it in the end. Their intense chemistry spills over onto the pages through several very hot, fan-your-face sex scenes that had me cheering for them because Amelia deserved a happy ever after, especially with her aunt's predictions steering her in the right direction towards her future happiness.
Overall, I really enjoyed this story and the secondary characters provided amusement, especially Amelia's aunt who seems magically gifted. The epilogue wrapped the story up nicely, and I loved how Samuel proposed. The words he says to Amelia made me laugh. I would recommend Life's a Beach by Jamie K. Schmidt, if you enjoy island holiday romances.
Book Info:

January 5th, 2016 | Loveswept | Hawaii Heat #1
Sex on the beach has never been so much fun! USA Today bestselling author Jamie K. Schmidt kicks off a series set in paradise with an irresistible tale of second chances, secret identities—and a connection that's too sweet to miss.
When Amelia Parker arrives in Maui, newly single and unemployed, she's shocked to discover the resort she booked is actually a ramshackle little beachside hotel. At least the scenery is easy on the eyes—as is the toned, laid-back snorkel instructor, "Dude." After two weeks of sun, serenity, and mind-blowing sex, she even accepts a job as the hotel's concierge. But what Amelia really wants is to relaunch the place completely. And that means convincing the absentee Wall Street billionaire owner, Samuel Kincaide, to take a chance on her.
Samuel has a plan, too: selling off every last reminder of his former life and chilling all day, every day as his slacker altar ego . . . Dude. He loves his romps in the ocean, and under the sheets, with the feisty Amelia. If she discovers his true identity, her boundless enthusiasm and innovative business plan will seriously diminish his hammock time. But when Amelia runs into real trouble on the island, he'll put everything on the line to keep her safe. He just hopes that the woman who's falling for Dude will feel the same about Samuel.