Like Cats and Dogs by Kate McMurray: Lauren is determined to make her Brooklyn neighbourhood a better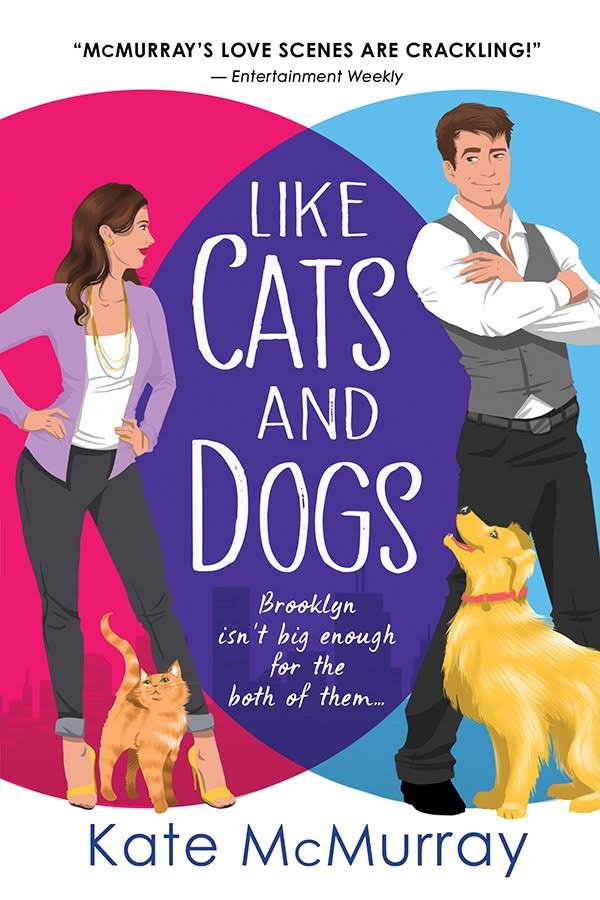 place, starting with helping find each and every cat that comes into the Whitman Street Cat Café a forever home. However when a box of little kittens come in Lauren has no choice but to ask the vets next door for a bit of help with caring for the little fur balls. Now this wouldn't be an issue after all the Whitman Street Cat Café and the clinic have always worked so well together that is until new vet Caleb Fitch joined. You see Lauren and Caleb seem to keep butting head about the cats but it would seem that neither is immune to their undeniable chemistry, when they spend the night together trying to nurse the kittens back to health.
"He's a dog person. A dog person, guys. I can't date a dog person."
Veterinarian Caleb Fitch is coming off a bad divorce, not only did his wife up and leave him but she also sold their veterinary clinic leaving him feeling some what lost, this is what leads him to the Whitman Street Veterinary Clinic. However the very last thing he expected was to spar with the beautiful Cat Café manager let alone start to feel things that he was convinced that he would never feel again.
"So what are you proposing ? An enemies-with-benefits relationship?"
Calling all animal lovers this is the perfect book for you! Like Cats And Dogs combined two of my favorite things romance and cute cuddly pets, this was the perfect mix of sweet and cute all wrapped up with a purrfect ending! I absolutely loved that the animals played such a big part in this novel and were not just in the background.
"Hey, I can be sexy and spontaneous. And these are unusual circumstances . It's like, thank-god-we're-alive sex. Except in this case, thank god the kittens are alive."
"So, just to be clear on your intentions, if I come with you back to your apartment, you intend to jump me." She grinned.
"Yes, that's accurate."
I loved the passion and drive that Lauren had when it came to the cats, as a major cat lover myself I was a huge fan of the Cat Café. Though I did find that she was a tiny bit to pushy when it came to Caleb treated the cats. As for our hot doc Caleb, even with his loads of baggage he was a softie underneath it all. I loved that even though he was all about having his walls up he was actually letting Lauren in along! Now I will say it took a bit to warm up to Caleb and Lauren, both had their draw backs but overall I found that they came together nicely at the end.
"Are we having a romantic comedy ending? Is this like every other Julia Roberts movie?"
He laughed. "I'm just a boy… sitting next to a girl… asking her to love him."
I do have to mention the secondary characters in this novel, all of whom were amazing, I loved the little family at the café. Even though they started as an enemies with benefits relationship Lauren and Caleb end up being a super cute couple. I would definitely recommend reading this cute romcom with all its cute furry friends.
QOTD: I'm a huge pet person, do you have any fur babies?

Book Info:

Publication: May 4th 2021 | Sourcebooks Casablanca | Whitman Street Cat Cafe #1
Can you fight like cats and dogs, and still be perfect for each other?
Things are getting ruff in this Brooklyn neighborhood when new veterinarian Caleb Fitch moves in next door to the Whitman Street Cat Cafe and gets on the wrong side of cafe owner Lauren Harlow. Lauren has a few things to teach the new vet on the block, and rescuing kittens is only the start…
Lauren can't ignore the fact that she is instantly attracted to Caleb, but he gets her even more riled up when he argues with her about how best to treat the cats in her care. Determined to smooth things over, Caleb comes to the rescue when a new litter of abandoned kittens is left on Lauren's doorstep, and they confront the fiery attraction that's been building between them from the start. But saving the baby kittens is only the first challenge Lauren and Caleb have to face, and when a real estate developer comes sniffing around their block, they'll have to work together, or risk losing everything…