Lone Star Christmas (Coldwater Texas #1) by Delores Fossen : Who in their right mind sends a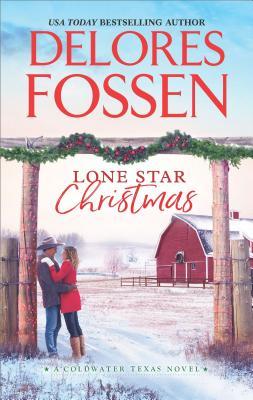 wedding invitation for a Christmas Eve wedding decorated with a stuffed armadillo wearing a bridal veil, draped in gold tinsel and carrying a bouquet of poinsettias? Callen Laramie isn't surprised to see the wedding invitation was sent by Rosy Muldoon inviting him to her wedding to Buck McCall, Callen's foster father, but the wedding is to take place in Coldwater, Texas. "No way" is Callen's first thought.
He left Coldwater eighteen years ago and has no intention of ever returning. Too many bad memories that still overshadow all the good Buck McCall had done for him and his brothers. Callen notices a hand-written note on the bottom of the invitation which says, "Please come. Buck needs to talk to you. Rosy" That made it really tough for him to decline but decline he does. That decision sticks until he gets a surprise visit from his childhood sweetheart Shelby McCall, Buck's daughter. Shelby decides to "take the bull by the horns" and go to Dallas where Callen runs Laramie Cattle to appeal to him in person. There's something wrong with Buck. She just knows it – an x-ray, something showed up, nothing to worry about according to Buck. Wrong. She is plenty worried, worried enough to pull out all stops to get Callen back to Coldwater if that's what her dad wants. But the cost is a French kiss?
Shelby does convince Callen to return to Coldwater. Thus begins a fun, laugh-out-loud book. There are super puffy pink wedding dresses with sequins galore, nunchucks as a Christmas gift, replicas of Billy the armadillo everywhere and lots more fun. Everyone knows everyone else's business in this small town. Poor Shelby can't even have a run-in with her ex-fiance in the town bake shop without all the townsfolk inside and outside the shop stopping to stare and try to listen. Local citizen Hattie Dapplemore is even using binoculars in the parking lot of the diner to watch to see what might happen.
Author Delores Fossen has managed to hit all the highlights of an excellent book. She has very likeable characters, a great storyline and tons of humor in this story. She also manages to convey the Christmas spirit with a touch of humor. Delores Fossen conveys the emotions and feelings of the tragedies of her characters very well so the reader feels included in the good times as well as the bad times. This book is the first installment in the author's newest series, Coldwater, Texas. Lone Star Christmas is a delightful read – a book not to be passed up!

Book Info:

Publication: September 25th 2018 | HQN | Coldwater Texas #1
A family crisis brings him home…Just in time for ChristmasCattleman Callen Laramie has no intention of returning to his hometown of Coldwater, Texas, until a Christmas wedding and a family secret convince him he has no choice. And when he's reunited with his childhood crush, the girl who'd always been off-limits, Callen knows leaving might not be so easy this time. Shelby McCall is as pretty as a Christmas snowfall, and Callen wants to kiss her under the mistletoe…and the Christmas tree…and the stars. But once Shelby knows the whole truth behind this homecoming, will their holiday fling come to an abrupt end? Or will she accept the gift of his heart?