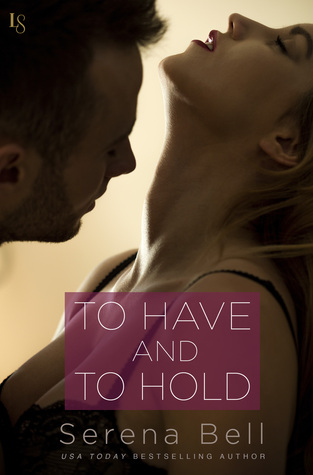 In To Have and To Hold (Returning Home #3) by Serena Bell, instead of looking at Trina Levine like a man in love and determined to fulfill the promise he made to her, Hunter Cross comes home from deployment with not a clue of their relationship. Physically scarred and suffering partial memory loss, he soon begins to have some recollection of he and Trina being together, but isn't sure whether it's his mind playing tricks on him or if his dreams are the real deal. Can they find their way back to each other?
"Did you really think it was a dream?"
"No."
"But you pretended you did."
"I didn't really know. I suspected it wasn't. But there's no really good way to ask a woman if you actually—" There was a smile in his voice now.
What I enjoy so much about Ms. Bell's books is how she draws a reader in not only by a strong plot, but by the main characters emotions and reactions. This story starts off by giving readers a glimpse of how Trina and Hunter's relationship is before he goes on deployment, and then how it is when he returns. But it was the moment of Hunter's return home that made this story fast-paced for me, as I wanted to know whether they would find a way back to each other, or whether all hope is lost for a future between the pair.
The dialogue was intense due to the main characters back stories as well as the fact that Hunter has lost some of his memories including the ones of him and Trina as a couple and struggles with the fact that he may not recover them. However, there were some light-hearted moments between the main characters that had me smiling, especially when it seemed Hunter was starting to remember some things from his past.
"How do you like your eggs?"
"Over hard."
"I would have said just hard enough. Didn't hear you complaining."
She shot him a glance and found him smirking at her. "Have you been waiting for me to show up so you could make that joke?"
I really liked both the main characters, as well as the secondary ones. Hunter and Trina's daughters, who are best friends, want so much for their parents to be together. It's hard for them – along with Hunter's mother – to see their relationship falling apart, but I liked that none of them gave up. Their scheming could have backfired, but I was cheering for it not to. Because Trina and Hunter needed each other, as their child's other parent weren't exactly the best of parents to their children.
Trina is strong and brave. It isn't easy for her to deal with the fact that Hunter has forgotten how good they are together. She copes the best way she knows how by moving forward and making plans in case things don't go back to the way they were between her and the hero. She's also kind and caring and would do anything for her daughter and her daughter's best friend, even if it isn't what is best for her. Really, I felt sorry for her because being around Hunter and him not remembering what they were like together seemed a torment.
While the hero, he struggles to deal with what life has thrown at him. Will he remember what memories he seems to have lost, or will they be gone forever? What if what happened to him on deployment was so bad that if he remembers will make Trina run away? Truly, I felt sorry for Hunter as well. He doesn't know whether his dreams are dreams or if they're real, and it's lucky that Trina is there to help him deal with the good and the bad ones that he has. Until eventually, Trina helping him cope spills over onto the pages in nicely-detailed sex scenes, which illustrate the strong chemistry these two have from the very beginning and prove that these two are a couple meant to be no matter what obstacles they have to overcome.
Overall, this was another delightful but emotional read in Ms. Bell's Returning Home series, and has me eagerly anticipating the next book of this series, if there is one. The epilogue wrapped this story up nicely, as Hunter found something he could do now that he's out of the Army and the conversation about their daughters and what Hunter will have to do to take care of the girls when it comes to boys made me grin. I would recommend To Have and To Hold, if you enjoy military heroes or have read the other books of this series.
Book Info:

July 19th, 2016 | Loveswept | Returning Home #3
The reunion is supposed to be the start of the rest of their lives. But when Trina Levine sees the soldier she promised to love forever, Hunter Cross looks at her like she's a stranger. The connection is gone, lost in the blank stare of those soulful brown eyes. Hunter remembers his young daughter but not Trina, and he certainly can't recall why Trina and her own child are living in his house. Although his lean, rugged frame bears the scars of battle, his mind took the worst hit.
But Hunter Cross hasn't forgotten everything. His body remembers caressing Trina's delicate curves, holding her close, never wanting to let go. Was it just a dream, or was it real life? Now, as he tries to put the pieces back together, Trina's the one who comforts him when his night terrors strike. It's Trina whose warm touch rekindles a connection no man could deny. Even with the odds stacked against them, Hunter wants to believe. Because passion has the power to awaken the past—and remake the future.