In Love Next Door (Lakeside #1) by Helena Hunting, Being back in Pearl Lake is bittersweet for Donovan "Van" Firestone. It's a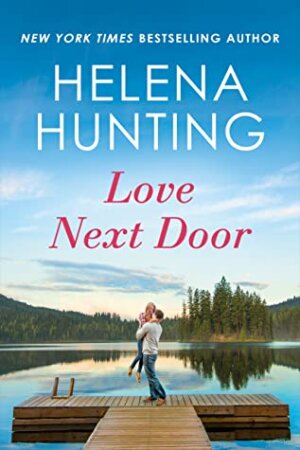 sleepy lakeside town that contains some of his favorite childhood memories, visiting his wonderful Grammy Bee each summer. But now that she passed away a few months ago, Van is left to sort through her belongings and figure out what to do with the cottage and property. It turns out to be the perfect place to also sort out his life. Thanks to a large snafu back in Chicago, he's no longer employed or on the family's charity board. Van's attention gets pulled in a totally different direction when Dillion Stitch, Bee's neighbor, walks in on him at an, ahem, inopportune time. And he soon finds that not only is she ridiculously fun to tease, but he's also strongly drawn to her.
"Who the hell are you, and how did you get in here?" I shout at the woman standing between me and the bedroom, where my clothes are. I'm not in the mood for guests or being nice, apparently, based on my volume and my tone.
Her wide-eyed gaze dips down and then springs back up, her cheeks flushing red. "Who the hell are you, and why are you naked?" she yells back.
A surprise phone call from her parents has Dillion scrambling to her hometown of Pearl Lake. Things in Chicago were at an impasse anyway, so helping out at the family construction business won't cause too many issues. Or so Dillion thinks. Because being back in town, seeing the friends she left behind and the changes in her brother has her wondering if she did the right thing cutting ties ten years ago. And then there's her new neighbor Van. She misses his grandmother, Bee, terribly. But Dillion's not really sure what to think of him–although she can't deny there's chemistry galore with Van. Or that he frustrates her with his flirting. As the duo bands together to take care of Bee's estate and to see where their attraction leads, Dillion will have to figure out where her heart wants to reside.
"I really miss her," I whisper.
"Me too. More than I ever thought possible." Van's smile turns sad.
I wrap my arms around his waist, wishing that we didn't have matching Bee-shaped holes in our hearts.
Helena Hunting couldn't have started her new Lakeside series off in any better way. Love Next Door was a sexy small-town romance with a serendipitous feel to it that warmed my heart through and through.
"I wanted to prove to everyone who ever looked down on me that I could be just as successful. And I wanted to prove to this town that if you wanted to leave, you could."
"And now?"
"I'm starting to see this place differently."
Trigger warning: View Spoiler »mental illness, alcohol & gambling addiction, infidelity (not by the main characters) « Hide Spoiler
Helena Hunting's tagline is "Swoony heroes and quirky heroines you'll fall in love with" and she's not kidding. Love Next Door found our hero Van struggling with the loss of his beloved Grammy Bee and with a financial issue tied to his family that affected his career and everything else in his life. And our heroine Dillion was at a personal crossroads when her brother got injured, causing her to go home and help out at her family's business. So both Van and Dillion were drawn back to Pearl Lake for family reasons. But their greatly differing views of–and previous experiences with–the cozy lakeside town was what really made things interesting.
Dillion and Van's meet cute was so well done by Hunting that I was almost in tears laughing. Let's just say that it involved a very naked Van fresh out of the shower, no towels, and Dillion unexpectedly letting herself into the cottage. That scene set things off between them with equal parts animosity and attraction. And the sparks only grew from there. I loved watching the progression of Van relentlessly teasing Dillion just to get a reaction and then flirting shamelessly to make his interest known. They went from fiery (highly entertaining) bickering to a love that was tender, soft, and so very strong that it took them by surprise.
In addition to Van's family woes, Dillion was also in the midst of personal drama. Unlike Van who spent just summers in Pearl Lake, loving the quiet, peaceful town, she grew up there making plans to escape to The City (Chicago) to start life on her own terms. Going back to her hometown about a decade later made a huge difference in how Dillion saw it. It was fun watching how the locals reacted to her. And her group of friends–as well as her parents and brother–added some whimsy and depth to the story.
Love Next Door was a delight to read with its pleasing blend of humorous banter and heartfelt moments. I'm not sure which character will get their HEA next–I'm hoping for Van's sister Teagan!–but I know Helena Hunting will no doubt have readers smiling yet again.

QOTD: Small-town romance is one of my favorite tropes. I love the nosy-but-well-meaning neighbors, sense of community, and the tension it creates for the hero & heroine. Do you enjoy this trope? If so, do you have a favorite small-town book or series to recommend?

Book Info:

Publication: July 27, 2021 | Montlake | Lakeside #1
When Dillion Stitch left her hometown, she had no intention of going back. But when her brother gets into trouble, Dillion reluctantly agrees to return home to take her place at the family business.
Being back in Pearl Lake after all these years feels familiar, but also brings a few surprises. She's quick to notice that someone new has shown up at the cottage next door. Dillion gets more than an eyeful when she goes to check out the newcomer and meets Donovan "Van" Firestone—her beloved neighbor's grandson—in all his unclothed glory.
Having gotten off to a rocky start, it's not long before they begin bickering with each other all over town. All that back and forth inevitably sparks an undeniable attraction. But Dillion's family has issues, Van's family resents him, and neither Dillion nor Van feels truly at ease in the small town. For these Pearl Lake exiles, home isn't just where the heart is—it's where things get complicated.