Matilda Next Door by Kelly Hunter: Matilda Moore has spent her life on a farm in Australia. She has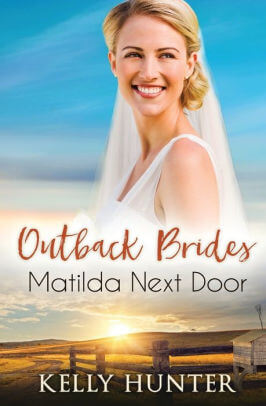 had dreams, but never truly explored them. She has a small business baking tasty treats for sale locally with sponge cakes being her specialty.
Her childhood friend, Henry Church, could not wait to leave home and has become very successful in England. His grandparents raised him, but his grandmother's sharp tongue helped drive him away. He ends up coming home when he finds out his grandparents are not doing well. He ends up needing to stay longer than planned when his grandmother has to go in the hospital.
Matilda ends up going to London to stay in Henry's flat and plans all sorts of adventures, including a special cooking class. She never gets to attend that class. She finds a baby on the doorstep with a note to Henry from a now dead woman who claims he is the father of the child. Matilda makes the very long journey back to Australia with the baby in tow. Will Henry and Matilda have a marriage of convenience to raise baby Rowan or can love grow between the boy and girl next door.
Although Matilda Next Door is set in Australia, the hero and heroine face universal issues. Can you forgive hurts from the past, can you love a child when you are not the real mother and can your dreams be fulfilled in ways you didn't expect?
Matilda is a lovely heroine. The author shows that she thinks of herself as "sturdy", but she really doesn't appreciate her true beauty inside and outside. She comes across as immensely patient and kind.
Henry at first seems very quiet and reserved. Once unexpected circumstances are pressed upon him, he comes out of his shell. He also has the courage to express how his childhood affected him.He has always cared for Matilda, in his own way, but he sees her in a whole new light after his life changes so drastically.
I love reading about different locations and always enjoy learning new things about Australia. Kelly Hunter is a new to me author and I would love to read future novels by this talented author.

Book Info:

Publication: August 3, 2020 | Tule Publishing | Outback Brides Return To Wirralong #1
Aussie farm girl Matilda Moore kicks off her dream trip to London by flat-sitting for her childhood friend. But London is daunting, crowded and noisy, and that's before Tilly finds a baby on the doorstep. There's a note attached: "Henry, if you're reading this, please know the worst has happened."
Probability expert Henry Church has finally returned home to Wirralong, Australia, to see his grandparents when he gets a phone call from Tilly that breaks every statistical analysis. The probability of him being the father is marginal. Plus, he knows nothing about caring for a baby. Emotions and socializing are even bigger mysteries. He begs Tilly for help—can she cut her holiday short and bring the baby to Wirralong?
Tilly will do almost anything for her childhood best friend, but falling in love with him and his motherless baby is an emphatic no. Out of the question. Or is it?