Tempting the Prince by Christi Barth: The last thing Mallory expected when she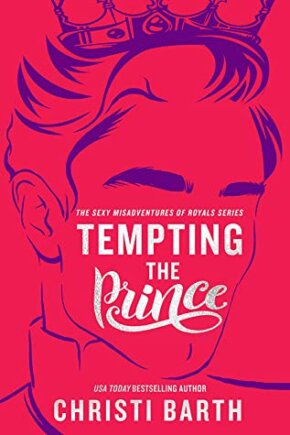 returned to Moncriano was to be the center of the scandal of a lifetime, well getting involved with the crowned prince and being of non royal blood will sure create a scandal. Oh and did I mention said prince is the brother if the girl she has called her sister for her entire life? Talk about complicated. Non the less Mallory promised Kelsey that she would stand by her and help her transition into her royal life, even after getting shot by a psycho nationalist, nothing can keep Mallory from being the best big sister she can be. Now you might think living in a palace is just about a dreamy as it can get, but Mallory gave up her entire life to be there for Kelsey and it sure is starting to get lonely, which only makes her attraction to Prince Christian all the more tempting.
"Mallory. Every woman in there is dripping diamonds and wearing couture. And you outshine them all. By far. Because of who you are on the inside. Because I see you. Because you see me."
From the moment his sister returned home with her American sister in tow, all Christian can think of is Mallory. There is just something about the spunky red head that Christian cant seem to shake. However Christian has his plate full with having to shoulder all his father's responsibilities as stand in king and having the nation eagerly awaiting him to take a bride, the very last thing he could be doing is running of to cool of at a dive bar, let alone having a steamy romp with Mallory. However for once in his life Christian has found someone that doesn't want him for his title or hide what they truly think of him, and now he is finding it finding it increasingly difficult to give up what he has with Mallory, but with the weight of taking on his new role as king and the watchful eye of his people, what will Christian do; follow his heart and fight for the one woman that he loves or resign himself to a loveless life as rule of his kingdom?
"Mallory. You enchant me. You soothe me. You delight me. You make me feel like a man, and not a figurehead. You're fun. I don't say that to pressure you. But know that I will take everything you're willing to give me."
Tempting the Prince is hands down the best royal romance that I have EVER read! This was one of those once you start it is impossible to stop reading novel, I devoured this beauty in a day straight. Not only is this novel well written but it is done so that you feel like you are right along side the characters in Moncriano. I will say as a Princess Diaries fan this book really brought on some nostalgic feelings and I loved every second of it! One could almost say this was the grown up rendition of The Princess Diaries.
"If I'm true to you, then I can be true to the country. To be the best possible king, I need a partner. Someone who will stand with me, not behind me. Someone who I feel safe telling everything to. Someone who listens and laughs and loves me. You're it, Mallory. You're the one."
I absolutely loved the connection between Mallory and Christian, two people thrown in the deep end and just barely staying afloat, but some how become the life vest that they each need to one another. My heart broke for Mallory, not only did she have her whole life turned upside down but her own sister is not actually her sister. Not only does she have all of this going on but after taking a bullet for the royal family, her life might never be the same again. I found Mallory to be increasingly selfless and a good person down to her core. Though I will say that I was not to happy with Kelsey for being so high and might about Mallory dating Christian.
"So yes , she'd take these four weeks of dating the dreamiest man ever. It was not the smartest decision she'd ever made. There was an all-but-guaranteed broken heart for her at the end of it. But four weeks with Christian, really being with him, was worth it."
As for our hero, I just loved prince Christian, the poor guy has the weight of his entire country on his shoulders but he still comes off as a nice person. I loved that he did not let the power get to him and that at the end of the day he truly wanted what's best for his people. But I will say that I did feel sorry for him, not only did everyone want to have a say in who he can and can't date, but they also had a prescribed list of acceptable woman that he could marry. All of this side I loved watching Christian find solace in Mallory and seeing their relationship blossom. Though I will say I wish the epilogue was slightly further into the future.
Overall Tempting the Prince was a brilliant read that I would highly recommend all romance lovers read. This book will have you living out your own princess fantasies alongside Mallory and Christian. I only wish I had come across this series sooner.

Book Info:

Publication: August 24th 2020 | Entangled: Amara | Sexy Misadventures of Royals #3
What happens when you mix an average American woman with a decidedly not average future King?
I can tell you from experience—a whole lot of complications.
You see, four months ago, my all-American sister, Kelsey, found out that she's not actually my sister—she's a princess of a country we'd never heard of. She begged me to come along when she was whisked off to her new palace, so here I am. An outsider who doesn't fit in anywhere.
Now that she's settled, I should go back to my exciting new career in New York. I absolutely should not stay in a country where I got shot (long story), where I suck so badly at the national sport that I accidentally murdered the symbol of the monarchy in front of half the country, and—oh yeah—where I can't stop ogling Kelsey's actual brother.
The Crown Prince.
The man who has to marry a very important princess. (not me)
The man who must create the next heir to the throne. (without me)
The man I absolutely can never be with. (remember that long story?)
The man who just gave me the best sex of my life…
Did I mention that it's complicated?