In Meant to Be Yours (Happily Inc. #5) by Susan Mallery, Happily Inc has been a great fit for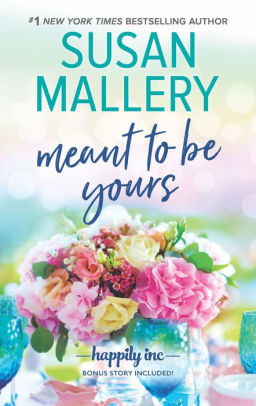 Renee Grothen since moving to town and becoming a wedding coordinator at Weddings Out of the Box. She might be a bit of a wreck personally in the romance department, but she can put together and follow a wedding through to the end for her clients like a champ. While Renee has put a long-term relationship out of her future plans, a fling could be fun. Especially if it's with writer Jasper Dembenski, in all his broody, handsomeness. Things between them heat up quickly. And she finds it fun to help him with some of his writing woes when it comes to adding women and romance to his thrillers. But when Renee realizes she's about to give Jasper her secrets–and possibly her heart? Yeah, it's time to rethink where she's headed in her personal life, considering her horrible track record.
'She knew love wasn't in the cards–she'd tried and failed too many times. She didn't have another heartbreak in her. But did being sensible have to hurt so much?'
After years in the military, Jasper has a new career and has been more successful than he'd ever dreamed. Being a thriller writer has been a perfect way to get out of his head while still putting his former skill set to use in the fight scenes. But now Jasper is at a loss. How does he add a believable female character and point of view, let alone romance, to his book? Gorgeous Renee takes pity on him and tries to help with the heroine's scenes. And she also somehow ends up agreeing to a no-strings-attached fling with Jasper, much to his joy. But his time with Renee becomes more about them together as a couple and less about sex (although that part's fantastic!) or his book. He knows he's a mess after the things he saw in the military and far too damaged to be good for Renee. Although Jasper might be ready to try for a future if she'll agree…
'There was something about her. Something that drew him in and made him want to stick around. Something that made him wonder if maybe his life was better with her in it.'
Incredibly fun, with a sexy hero clueless about women, and a super focused, highly capable heroine with hidden depths, Meant to Be Yours was an utter delight to read.
He drew back and watched her. "That much of a hurry?"
"It's been decades."
"You're not old enough for it to have been decades."
"It feels like decades." She pointed to his jeans. "Take your clothes off."
He grinned. "Yes, ma'am."
When Susan Mallery branched off from her long-running Fool's Gold series and started Happily Inc., I never dreamed I'd come to love this series just as much as I have Fool's Gold. But I do! The characters are unique, the romances are flirty and modern, and the setting has been a constant source of interest since book one.
With Jasper and Renee's story, we had a couple who were both rather serious about their careers to the detriment of their personal lives. That focus on work coupled with some tough things in their past meant Renee and Jasper were sometimes standoffish socially–and certainly when it came to dating. Although they were both great people who had wonderful senses of humor. (Renee's sarcastic inner monologues were a hoot!!) But I loved how their feelings for each other took them by surprise and made them rethink their views on relationships and in letting go–particularly in Renee's case by trusting that Jasper wouldn't let her down when he learned of a family secret.
I won't spill the details on that secret, but I have to say Renee's terrific mom brought an unexpected twist to the story that I grew to love. It was sort of offbeat but it tied in nicely with the people and even businesses in Happily Inc. And for all of you animal lovers out there, we had a whole lot of critters as part of the story, including fan favorite Millie the giraffe, as well as a rescue dog and some cute (and kinda cranky) cats.
Note: The version of Meant to Be Yours that I read also included a previously released bonus novella: A Very Merry Princess (book #2.5) which I actually hadn't had a chance to read before. If it's new to you as well, I think you'll love Bethany and Cade's interesting royal romance that had a lovely holiday feel to it.
Meant to Be Yours was a lighthearted but emotional romance all about taking chances and learning to trust. Susan Mallery's trademark warmth and wit were on full display and will easily charm readers.

Book Info:

Publication: Published October 22nd 2019 | HQN Books | Happily Inc. #5
In Happily Inc, love means never having to say "I do"…
Wedding coordinator Renee Grothen isn't meant for marriage. Those who can, do. Those who can't, plan. But she never could have planned on gorgeous, talented thriller writer Jasper Dembenski proposing—a fling, that is. Fun without a future. And the attraction between them is too strong for Renee to resist. Now she can have her no-wedding cake…and eat it, too.
After years in the military, Jasper is convinced he's too damaged for relationships. So a flirtation—and more—with fiery, determined Renee is way too good to pass up…until his flame becomes his muse.
Renee is an expert at averting every crisis. But is she finally ready to leap into the one thing that can never be controlled: love?