Montana Dreams (The Blackwell Sisters #3) by Anna J. Stewart Peyton is the oldest of the five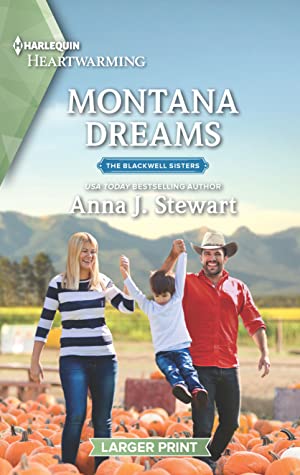 Harrison sisters or actually that should be the Blackwell sisters as the triplets Georgie, Amanda and Lily plus the youngest Fiona found out at Lily's aborted wedding.
Peyton was well aware that their father is Thomas Blackwell because she was old enough to remember him when he left. His leaving the family left a hole in Peyton's heart. She loved her father. But her mother who died a while before Lily's aborted wedding made Peyton promise not to tell her younger sisters the truth. She wanted to tell them. She really did, but a promise is a promise. The truth did finally come out on the day Lily was supposed to get married when their Blackwell grandfather, Elias Blackwell or Big E as he likes to be called, showed up. Peyton's sisters were not at all happy with her when they found out she knew the truth.
Now to add to that pain Peyton is receiving threatening letters concerning her work at Electryone Technologies. Her boss Vilette Wright assigned a bodyguard to her to keep her safe. Matteo Rossi is very competent, very professional and very handsome. To add to her safety when Peyton receives an arrangement at work including poisonous plants Vilette sends Peyton and her bodyguard Matteo to her grandfather's ranch in Falcon Creek, Montana. Just as they are about to fly there Matteo's son is brought to him from his ex-wife in Japan to stay for a while. Matteo is ecstatic since he hasn't seen his son for a couple years and Peyton falls for the little six-year-old Gino.
These characters are very likable. Both Peyton and Matteo are caring and loving. Gino has insecurities and it was great to see both Matteo and Peyton addressing his needs. This is an entertaining read and great addition to the Harlequin series The Blackwell Sisters.
Book Info:
Margie Hager| 4.5 Stars | HJ Recommends | No |
Publication: October 6th 2020 | Harlequin Heartwarming | The Blackwell Sisters #3
Can a single dad and a business whiz…
Find the right connection?
Swapping Silicon Valley for a Montana ranch isn't Peyton Harrison's choice. Nor is bringing along a bodyguard. But until threats subside at Peyton's tech company, Matteo Rossi intends to watch over her while also reconnecting with his young son. Peyton's instant bond with little Gino is making her rethink her path—and her feelings for Matteo. Is a new dream unfolding under Montana's endless sky?
USA TODAY Bestselling Author