Montana Match by Carol Ross is the fourth book in the Harlequin series the Blackwell Sisters. This book is filled with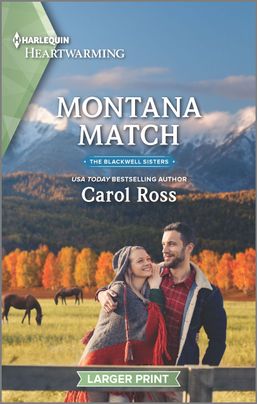 great characters, fun dialogue and heartwarming family support.
Fiona Harrison is the youngest of the Harrison sisters. Her mother recently passed away which has had a great effect on the family. What has also greatly affected the siblings is the discovery of their relationship to the Montana Blackwell family. One of Fiona's triplet sisters, Lily discovered the day she was supposed to get married that the man the sisters all thought of as their father, Rudy Harrison, was actually their step-father. Their birth father, Thomas Blackwell, left when the girls were too young to remember him.
Tomas Blackwell's father Elias Blackwell, Big E arrived at Lily's almost wedding to meet his newly discovered granddaughters and encourage them to meet the rest of their Blackwell family in Montana. Fiona decided to move from California to Montana to settle down and find a husband. Rudy had a heart-to-heart chat with Fiona about settling down so Fiona went along with the advise of Rudy, Big E and her oldest sister Peyton to try online dating through PartnerUp.com. Fiona wasn't having a lot of luck dating through PartnerUp.com. She did appreciate the assistance she had from the bartender at the Silver Stake where she met the dates. The bartender, Simon Clarke, helped her avoid any complications she might have had turning down second dates with her match-ups. Too bad Simon didn't fit the qualifications she set for herself for the future. The qualifications Rudy, Big E and Peyton suggested she have.
Simon Clarke is helping out his cousin Ned by running his bar and restaurant, the Silver Stake, while Ned is caring for his wife who was injured in a horseback riding accident. His real life and business, Clarke Props LTD, is back in California. He will return there when Ned no longer needs him anymore. Because of his destructive parents Simon never plans to marry. He is sure that would end in divorce since not only his parents but his sister and brother can't keep a marriage together. When Fiona first walked into the Silver Stake Simon was immediately attracted to her. When she explained she was doing the online dating thing and looking for someone to marry and settle down with Simon knew he should shut down his attraction. No happily married life is in his future. Or is it?
Fiona has such a big heart and has to learn she needs to do what makes herself happy as well as doing for others. Simon needs to understand that he is a good guy and not destined to repeat his parents' and siblings' mistakes. Fiona and Simon really have a lot in common and make a perfect couple. I enjoyed reading about their journey to the discovery that they would be able to have a HEA.
The overall arc of this series, the search for the missing father, Thomas Blackwell continues in this story. Big E and Rudy are still traveling around in Big E's motorhome searching for Thomas. This story ends with a significant clue to his whereabouts.
Important note learned from this story – don't ever let pigs invade your wedding. Nothing is safe from them, including your wedding cake.

Book Info:

Publication: November 1st 2020 | Harlequin Heartwarming | The Blackwell Sisters #4
Thanksgiving in Montana
Is about family—and love!
Thanksgiving is the perfect time for Fiona Harrison to turn her life around. And she is sure finding a suitable husband will please her newfound family in Montana. When a dating app sends her every dud in town, handsome bartender Simon Clarke offers to be her matchmaker. If only Simon fit her criteria… Learning the truth about the twinkle-eyed charmer could change everything—but for better or worse?
USA TODAY Bestselling Author
The Blackwell Sisters
Book 1: Montana Welcome by Melinda Curtis
Book 2: Montana Wishes by Amy Vastine
Book 3: Montana Dreams by Anna J. Stewart
Book 4: Montana Match by Carol Ross
Book 5: Montana Wedding by Cari Lynn Webb