My Cowboy Valentine by Jane Porter & Tanya Michaels: What a great collection of two very beautiful and heartfelt stories. "Be Mine, Cowboy" was my favorite one out of the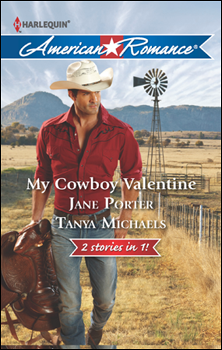 two because I connected more with Rachel and Cade than I did with Tess and Nick. I believe that Ms. Porter did a better job in creating a lovable story within a limited amount of pages. Though I did love that both of these stories involved children and new beginnings from old friendships.
My overall concern about "My Cowboy Valentine" was the fact that it was two stories in one. I'm not a person who likes shorter stories, mainly because I feel like I don't have enough time to get to know and love the characters.
But having finished this book I was impressed with Jane Porter and Tanya Michaels talent for writing and creating a great holiday read. If you are looking for the ultimate Valentines Day collection than I fully recommend these two wonderful authors 2 in 1 book.
Rating:
Book Info: Publication Date: February 5, 2013 | Series: Harlequin American Romance (Book 1438)
A kiss from a cowboy…
Be Mine, Cowboy by Jane Porter
Years ago, Rachel James gave Cade King an ultimatum, and he walked. Heartbroken, Rachel moved on. Life is tough as a single mom, but Rachel is doing just fine.
Now Cade's back after burning up the rodeo circuit, and things are different. He's sober, but with one burning regret. He has some work to do to show Rachel he's changed—but he's up to the challenge.
Hill Country Cupid by Tanya Michaels
Tess knows what young Bailey Calhoun wants: a mom. So when she sees shy cowboy Nick Calhoun giving someone the eye, Tess goes into full matchmaking mode.
Nick is happy to have Tess's help…but her matchmaking backfires. How can he convince his cupid that she's the one he wants?