In The Billionaire's Christmas Wish (Hope Children's Hospital #4) by Tina Beckett, Theo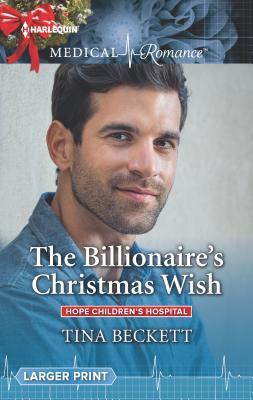 Hawkwood needs a miracle if he's to save his daughter who is suffering from a medical condition that no doctor has been able to diagnose. Yet, as far as miracles go, diagnostician Madison Archer is his last hope. However, no matter how many tests she runs, Madison finds herself becoming more and more disheartened. Yet, Madison is not one to give up easily and she'll get to the bottom of Theo's daughter's condition no matter what. Will time run out before Madison can discover a diagnosis or will Madison be the Christmas miracle Theo needs in more ways than one?
"I'm aware of the meeting. So what are you bringing to the table?"
"Table? I've been to one or two of the meetings, but wasn't planning on going to today's."
Theo's heart chilled in an instant, even though he'd been the one to say she wasn't required to go to them. "Reason?"
Maybe this was where she conceded that she was giving up. "I wasn't invited."
That made him sit back for a second. "You're always invited. And they'll want you there. I want you there. If you're waiting for a formal, gold-foiled envelope to arrive on your desk, that probably isn't going to happen."
What an emotionally-charged, fast-paced, entertaining read Ms. Beckett has delivered in this fourth book of the Hope Children's Hospital series where each book is written by a different author and centres around the hospital Theo had built and runs to honor his dead wife which helps sick kids to get better. Will the doctors of the hospital be able to save every child that comes into the hospital for treatment? The way this story started had me sympathizing with the hero because of what's happening with his daughter and not knowing whether she's going to survive whatever she's suffering. However, it was from the moment the hero and heroine come face-to-face for the first time where this story really gets interesting, as Madison is a total temptation that Theo finds hard to resist. Will Theo give into the attraction?
As for the dialogue, it was intense due to the main characters back stories and I found it hard not to want to cry for Theo and what his daughter is going through. Will she ever get better? Will Madison and Theo be able to get to the bottom of what's wrong with his daughter? Moreover, I really liked both the main characters. With the heroine, she's extremely driven when it comes to her job; she's kind and caring, which is proven by how good she is with Theo's daughter; and I liked that she gave the hero a chance, even though it's not easy for her to trust after what she's been through in her life. People have let her down before and how does she know that Theo won't be another of those people? While the hero, he's confident; hard-working; has a wonderfully close relationship with his daughter and I liked how determined he was to help the heroine any way he could, especially since it's palpable she doesn't feel like she belongs at the hospital.
"You looked for me?"
"Yes. I spent a good part of today checking hotel rooms and airline flights. It was like you'd vanished into thin air. I half suspected you were an angel sent to rescue Ivy and me."
"Angels don't do indecent things on office couches."
"They don't?"
"No. But then again I am no angel. I'm a woman in love."
Overall, Ms. Beckett has delivered a really good read in this book where the chemistry between this couple was strong; the romance was wonderful and had me loving these two together; and the ending had me worried for the hero's daughter and whether this couple would be able to diagnose her condition and find a cure, but had me loving the hero's determination to win the heroine's heart, as they're meant to be together. I would recommend The Billionaire's Christmas Wish by Tina Beckett, if you enjoy workplace romances, boss-employee romances, Christmas themed stories or books by authors Annie O'Neil, Amalie Berlin, Alison Roberts and Amy Ruttan.

Book Info:

Publication: November 20th, 2018 | Harlequin Medical | Hope Children's Hospital #4
Only a Christmas miracle…Will make his wish come true.
In this Hope Children's Hospital story, since losing his wife Theo Hawkwood hasn't enjoyed Christmas, and now his daughter Ivy is ill, he has even less reason to celebrate. Unless visiting diagnostician, Madison Archer, can perform a miracle… While Madison works to find a cure, Theo is fighting a growing attraction to her… Is Madison the miracle he's been waiting for?