In Nora Goes Off Script by Annabel Monaghan, As a screenwriter for The Romance Channel, you would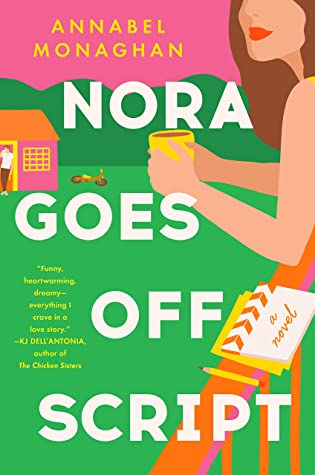 think Nora Hamilton would be a hopeless romantic who believes in fairy tale happy endings. Not so much. Particularly since her divorce. After years of pulling all the weight in their marriage, when Nora's husband Ben decided to leave her and their kids, Arthur and Bernadette, she probably should have been sad. Instead, it was like a weight was lifted off her shoulders. Now she is in control of her life, her finances, and who she lets into her daily world.
"What if you let me stay for a week?" Apparently, Leo's ride isn't coming.
"No."
"I won't bother you."
"Too late."
…"I just need to get out of the city. Let me stay here; you must have a spare room. I'll pay you a thousand dollars a day."
That is, Nora is in control until the screenplay she wrote about her relationship with Ben gets picked up to be a major motion picture. The caveat? The team wants to film it on her property. A week's disruption in Nora's life is worth the money she'll make, meaning she can finally make a dent in the debt her husband left. She never counted on sexy world-famous actor, Leo Vance, to insinuate himself into her and her children's lives. Or how well he would fit in around her small town. Nora wants to believe the sparks with Leo are real. And as he settles into her tea house out back to take a short respite from acting, all she can hope is that when he leaves for his next big movie, Leo won't leave her or her kids behind in the dust.
'Real life made into a movie that turns into a wild affair with the man who pretended to be my husband on-screen. For a person whose life is pretty straightforward, I never thought all my story lines would loop back in on one another.'
Everything about Nora Goes Off Script hit just right. From author Annabel Monaghan's storytelling to the fun and lively banter, complex characters, and the comforting sense of community, I fell in love with Nora, Leo, and their safe haven in Laurel Ridge itself.
'Deep down, I'm fully aware that this is not a sustainable reality, but I cling to it like you do with a really good dream when you're sure you could never replicate the feeling in real life.'
First of all, I kind of want a tea house of my own after reading Nora's story! (lol) There was something magical about the small building at the edge of the forest–and it was certainly featured in many important scenes. (Plus it was the name of Nora's screenplay.) I think that was one of many things that stood out to me about Annabel Monaghan's writing: her ability to describe each scene's setting in a way that I could picture it in my mind, but without going overboard with details. The tea house was one such memorable setting, but it's actually the front porch of Nora's house where she watched the sunrise each morning on her old porch swing that I adored.
Monaghan had a way of drawing us into Nora's life that felt natural. Almost like sitting down, catching up with a friend. And it made me feel like I truly got to know Nora–who was absolutely wonderful, by the way. An adoring mom who would do anything for her two awesome kids and a woman who had been treated poorly by her miserable, selfish ex-husband, I think readers will easily fall for Nora. I admired her strength, the way she kept her sense of humor even while dealing with a crappy situation. And in how she used her job as a screenwriter to get out her frustrations from her divorce and so many years of putting energy into a relationship that was unfortunately one-sided.
If anyone deserved to be treated well and pampered by a doting guy, it was Nora. And Leo fit that bill pretty darn well. He seemed like her match in every way regardless of his movie career. Well, until it all went sideways due to a (big) misunderstanding. There was some angst and soul searching as well as a bit of heartache for them both, but the way Monaghan pulled Nora and Leo together at the end will make readers giddy with happiness.
QOTD: Nora made her living writing romance screenplays for a channel similar to Hallmark. Are you a fan of that style of movie? Have any favorite ones or favorite Hallmark actors?
Book Info:

Publication: June 7th 2022 | G.P. Putnam's Sons |
Evvie Drake Starts Over meets Beach Read in this heartwarming and hilarious novel about a divorced romance channel screenwriter whose script about her marriage's collapse just might help her reclaim her life and find love.
Nora's life is about to get a rewrite…
Nora Hamilton knows the formula for love better than anyone. As a romance channel screenwriter, it's her job. But when her too-good-to work husband leaves her and their two kids, Nora turns her marriage's collapse into cash and writes the best script of her life. No one is more surprised than her when it's picked up for the big screen and set to film on location at her 100-year-old-home. When former Sexiest Man Alive, Leo Vance, is cast as her ne'er do well husband Nora's life will never be the same.
The morning after shooting wraps and the crew leaves, Nora finds Leo on her porch with a half-empty bottle of tequila and a proposition. He'll pay a thousand dollars a day to stay for a week. The extra seven grand would give Nora breathing room, but it's the need in his eyes that makes her say yes. Seven days: it's the blink of an eye or an eternity depending on how you look at it. Enough time to fall in love. Enough time to break your heart.
Filled with warmth, wit, and wisdom, Nora Goes Off Script is the best kind of love story–the real kind where love is complicated by work, kids, and the emotional baggage that comes with life. For Nora and Leo, this kind of love is bigger than the big screen.