Stolen from Her Royal Wedding by Pippa Roscoe is Pippa Roscoe's brilliantly scribed June 2022 release.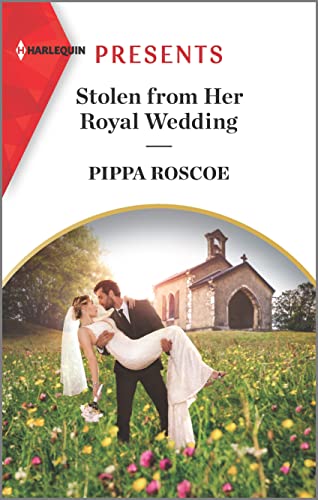 Marit, the youngest Svardian Princess and complete opposite character of her elder sister is delightfully kidnapped from her wedding. I say delightfully because the scene was full of passion and adventure that you'd want to read about. A sprinkle of humour rounds off Lykos's dramatic entry into Marit's hotel room and where the bellboy was braver than Marit's fiancee. Best first chapter ever!
Payment for returning Marit to her brother, the King, isn't cash. Lykos plans to destroy the owner of Kozlov Industries. It's what drives him and partly why he agrees to keep Marit for a week as per the order of the King. But things don't run to plan as Marit escapes and Lykos needs to realign his original assessment… Marit isn't the spoilt and wasteful Princess he first perceived her to be. No, she's an impressive thinking, surprising, beautiful, blues loving and talented young lady who he has to constantly remind himself not to want her.
Realising Marit is essentially trapped in a life she didn't ask for due to reasons beyond her control, Lykos asks what she would like to do before becoming 2nd in line to the throne.
A bucket list if you will is considered and scribbled down by Marit. Instead of the million things he was expecting, Lykos is surprised to find only 7. Embarking on the mission of completing Marit's wish-list before she has to return to her country to become a person she didn't want to be, Marit and Lykos grow closer. When their pretend date turns into a real date, passions combust.
Family loyalties and hurts feature throughout. Their loneliness is the same but different. Both desire a family and home also in the same but different ways. Poetically descriptive, dramatically adventurous and full of Pippa Roscoe's trademark humour rounded out Stolen from her Royal Wedding beautifully. I laughed and cried and everything in between.
A shelf keeper for the times when you need a jolly good laugh and cry while hiding from our mad world on a rainy day.
Book Info:

Publication: June 2022 | Harlequin Presents | The Royals of Svardia #2
Princess Marit's elopement isn't exactly all she'd dreamed, but at least it is on her terms. That is, until Greek billionaire Lykos Livas steals her away in her wedding gown!
Enlisted by the king, Lykos must return Marit to the palace—unwed. Yet hearing about her duty-bound life painfully recalls the memories of his own hard-won freedom. He offers her a week of rebellion traveling around Europe with him. But as the chemistry between them becomes undeniable, so does the deadline for Marit's royal return!
Read all The Royals of Svardia books:
Book 1: Snowbound with His Forbidden Princess
Book 2: Stolen from Her Royal Wedding
Book 3: Claimed to Save His Crown