Not seeking Mr. Right by Natasha Moore is a book I liked a lot. Ginny is a woman who hasn't been lucky in love. This is why she has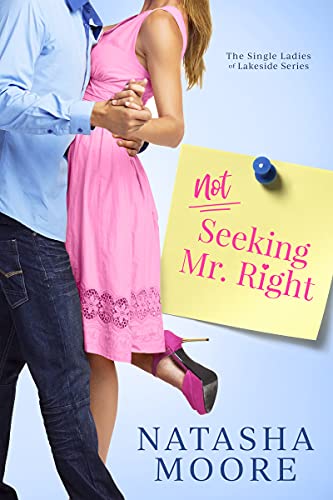 decided to remain single, even though her dream is to have the complete package: a husband, children and the white picket fence. She goes to her cousin's wedding, where she meets Josh, a charismatic bartender just out of college, and ends up having a passionate one-night stand with him… with permanent consequences. That's when the conflicts begin, when small town gossip, insecurities and painful experiences from both of their past come between them.
Ginny just got dumped by her boyfriend for two years, who was cheating on her. She never thought of having an affair with Josh and getting pregnant, increasing her insecurities because he's 15 years her junior. She hates being the center of attention, much less being the target of the gossip everybody's talking in Lakeside. The fact that a 40-year-old woman gets pregnant by a 25-year-old man is a very juicy gossip for a town where there are no secrets…
To be fair, Josh is not the typical fresh out-of-college kid whose only concern is get a job so he can have money for the next Playstation release. As someone who had hard responsibilities since childhood, Josh is very mature for his age, with big dreams for his career; even though his professional ambitions, he'll do the right thing for his unborn baby and Ginny.
Even with the age difference, Ginny and Josh have a lot in common. One makes the other better and vice versa, apart from the fact that their sexual compatibility is refreshing and organic. Their love is deep and strong.
With funny scenes as well as profound situations, attractive supporting characters and entertaining writing, Not seeking Mr. Right is a romantic comedy very deep in its messages: how age is a discriminatory factor for women (the "if a woman is over 30 years is considered 'obsolete'" kind of thing) and the double standards of society regarding a woman dating a man younger than her compared to the same situation if the one dating a younger person is a man. The fact of having a mature woman as the heroine —with her flaws and her worries about life and relationships, as any woman in real world— is an asset that shines on its own. And Josh is a charming man, really. I'll be watching how this series continues, because it has a lot of potential.
Book Info:

Publication: October 11, 2021 | Entangled Publishing | The Single Ladies of Lakeside #1
Ginny Colburn can't believe she's been dumped by her wedding date at the reception.
And everybody knows it.
So when a cute, younger man serving champagne to the guests flirts with her, she decides to really give the guests something to talk about and flirts back.
But the incredible one-night stand gives her more than great memories.
A few weeks later, she's got a positive pregnancy test and the task of having to tell a guy half her age, "Congratulations, you're a dad."
Only he doesn't react the way she thinks he will at all…