In On the Surface (In the Zone #1) Kate Willoughby seamlessly weaves together all the best characteristics with phenomenal dialogue allowing this reader to fall in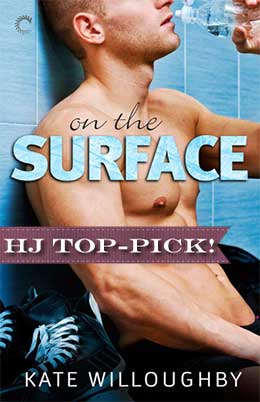 love, alongside Erin and Tim.
Pediatric nurse Erin Collier has a serious crush on her coworker, Dr. Adrian Oliphant. As a recent divorcee, all of the nurses are vying for his attention – Erin's plan is to bake her way into his heart. However, she quickly alters her path once she discovers he is a hockey fanatic. It is a consequence that Erin decides to grab lunch at the same local Q burger that is hosting a Barracuda signing. She sees it as an opportunity to impress Adrian by getting a few autographs. Instead of an autograph she gets into a shoving match with an autograph scammer – only to be rescued by Tim Hollander, the Barracuda's new right winger. The author, Kate Willoughby's, portrayal of Erin was very well-written – the compassion mixed with her insecurities was impressive. She is an amazing character; her emotional journey from a workplace crush to true love is remarkable.
Recently traded to the San Diego Barracudas reunites Tim with his previous New York Ranger teammates, Alex Sullivan and Jason Locke – hopefully we will get their stories in the future 'In the Zone' releases. Tim has two goals this season (1) get into peak condition and (2) minimize the negative publicity he received after 'Bottlegate'. Despite his best intentions, he gets into a fistfight during a Barracuda signing at a local restaurant with an abhorrent fan that accosts a woman in his line. Tim's character has a strong history, a story that defines him, and it makes him very desirable – but it is his dedication to Erin that make him truly shine.
If you are a sport romance fan then I highly recommend this series. I'll be on the Barracuda bench – cheering them on.
Book Info:

April 14th 2014 by Carina Press | (In the Zone #1)
NHL player Tim Hollander lost his temper one time and threw a water bottle at an abusive fan. After "Bottlegate," he's traded to the San Diego Barracudas, where he'll need to keep the bad publicity to a minimum while proving he can still compete with the younger guys on the ice.
Erin Collier is a pediatric nurse who's never seen a hockey game, but gets in line for Tim's autograph at a PR event in hopes of impressing the doctor she has a crush on. When an obnoxious fan gets pushy toward Erin, Tim rushes to defend the pretty stranger, throwing a punch in the process.
Grateful for the rescue, Erin agrees to stand by Tim during the resulting press conference and host him at a hospital charity event. Their chemistry is palpable, and soon their lives are intertwined. But Erin doubts a hockey player is capable of anything resembling a real relationship. And if Tim can't get her to see beyond what's on the surface, they'll never last longer than a single season…