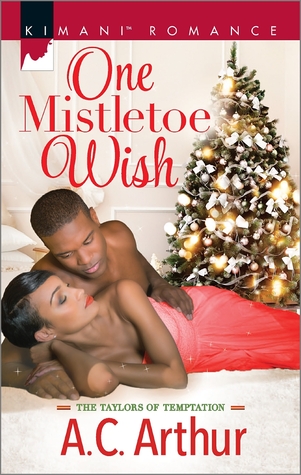 One Mistletoe Wish by A.C. Arthur  is the first story in the The Taylors of Temptation series. It's got an interesting premise – the Taylors are a group of sextuplet siblings born in the small town of Temptation. Because of the media frenzy around their birth, they became part of a reality show for the first few years of their lives, until something happened to split up the family and the parents got divorced. The mother and children ended up leaving the small town together, and the father went on to become a rich and successful businessman, who invested in the town despite having moved away himself. Now, several years later, the father has passed away, and the fate of some important buildings in the town, including the local community center and the hospital lies in the balance. The eldest sibling, Grayson, has returned to Temptation to sell the buildings, and whether he wants to acknowledge it or not, indulge in a little nostalgia of the time before everything went awry. When he meets widowed single mom and teacher Morgan Wells, the potential impact of his plans becomes much more apparent. What to him were just buildings are the lifeblood of the community. As he and Morgan connect, it becomes more and more clear to him that it's not going to be easy to leave this town, and this woman, who are stealing a piece of his heart.
I liked the premise of the story and the characters. Morgan comes across as a lovely woman, a good mother to her twins, and a respected teacher and member of the community. She still grieves the loss of her husband in the war in Afghanistan, and while she's not averse to moving on, she hasn't met a man who could hold her interest until Grayson comes to town. Her children are cute and well fleshed out characters who behave as expected for their age. Grayson is a competent and smart businessman. While he might have had plans to deal quickly with his inheritance, the truth is he is curious about the town and what's changed since he left so long ago as a child. He's an attractive and fit man, and makes his interest in Morgan known quickly, resulting in some sexy love scenes between them. Of note though, there is no mention of birth control – no condom use, and nothing about Morgan being on birth control which I found surprising. The story definitely has a small town feel, with the townsfolk all eager to get a look at one of the sextuplets that was a part of the financial well being of the town. It's also got some sweet Christmas touches to it, as Grayson and Morgan spend the holidays together while he's making his decision about what to do with the buildings.
The second half of the story has some events that come out of the blue, and actions that are rather eyebrow raising and seem out of character for what has been established up to that point. And there are clearly some details that have been poorly researched when building the background of Grayson's character and can't go unmentioned. Grayson is described in the first chapter as a runner, and a guy who works out about 12 hours a week. It describes him as running '5K marathons' in under 15 min. Firstly, there is no such thing as a 5K marathon. You are either running a marathon (which is 42K) or a 5K race. Secondly to run one in under 15 min is amazing, since an Olympic race time is about 13 min, and hard to believe for a casual exerciser. On a subsequent page, he runs for an hour and figures he's gone well over 5 miles. Well, at a pace of 15 min for 5K (which is 3 miles), an hour of running would be 12 miles. There's definitely some fanciful number making here. And lastly, the story mentions that he has a 3 mile track on top of his condo. To give this some perspective, the largest indoor tracks are 300-400 meters. The Daytona race car track is about 2.5 miles around. So you'd need to have a condo bigger than the size of the Daytona race track. To me, these are sloppy details that I easily looked up on the internet in 5 minutes. It made me question what other details would be wrong in the story.
If you like small town Christmas stories, and are partial to single parent romances (and can gloss over the details mentioned above) then you'll enjoy this story. There are going to be more in the series with Grayson's siblings and there seems to be more to their parents split than on the surface, a story arc that likely will continue over the next few books.

Book Info: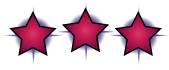 Nov 22, 2016 | Harlequin | The Taylors of Temptation #1
All she wants for Christmas…
Everything schoolteacher Morgan Hill loves is in her hometown of Temptation, Virginia–her twins, her students and the charming community center where she's staging their holiday play. But now the building's new owner, Grayson Taylor, is putting sexy visions into Morgan's head, making the young widow long for a future even Santa couldn't deliver.
As the oldest of sextuplets, Gray grew up in the media spotlight. His family's fame once helped Temptation thrive, but drove his parents apart. Coming back is just a bittersweet necessity until he meets petite firecracker Morgan. Somehow she gets the handsome tech guru to forget about big business in favor of small-town delights…and steamy winter nights. It's a life he never knew he wanted, but can he put his past aside to turn a festive fling into the sweetest forever?