In One Night She Would Never Forget by Amy Andrews Miranda Dean and Dr. Patrick Costello run into each other in the elevator while away at a medical conference, they get talking and realize that they both singles parents to a little girl that keeps them busy on their toes, with not much room to have a social life… They are both attracted to each other when opportunity presents itself in the way of having a one night stand while away from home and all their responsibilities they jump right into it.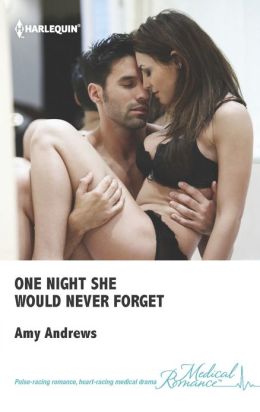 Imagine Miranda's surprise when she is introduced to the new doctor on the team and he turns out to be her One Night stand Dr. Patrick Costello in flesh sporting a wedding ring. To say she is livid is putting it mildly. She feels cheated, she grew up as the daughter of "the other woman" and vowed to herself as a teenager she would never make the same mistakes her mother made…and yet here she is "the other woman" in a marriage
She'd formed very early opinions of the sanctity of marriage that she had
staunchly lived by. Married men were simply off limits.
No exceptions.
No grey areas.
And yet she'd slept with one. The mere thought kicked up the squall in her
stomach another notch.
Sure, he'd said he could explain and she had no doubt there was some tale
of woe about being separated, about how his wife didn't understand him or
how they had an open marriage.
She was sure there was some easy patter about the technicality of his
marriage.
But she didn't want to hear any of it. (Andrews 31)
Patrick can be persistent and he does get a chance to explain the state of his marriage to Miranda. They are both attracted to each other but Miranda is reluctant and wary to jump into a relationship with Patrick. They decide to take it slow and right when they are ready to commit to their relationship and give their relationship a chance fate decides to conspire against them when both their past comes knocking on the door. Miranda and Patrick's love is put to the ultimate test; will they let their past intrude on their future?
One Night She Would Never Forget is a another solid read from author Amy Andrews, When I initially started reading this book I was almost certain this book was going to be another 'One night stand baby book' so I was pleasantly surprised to see that Amy choose not to take that direction. I loved the characters in this book , their complicated relationships and twist and turns this story took kept me hooked to the end. Now I am a big fan of epilogues, can't believe I'm actually saying this but this epilogue was MUCH too happy for me 😉
If you are not a fan of medical romances don't let the word "medical" stop you from picking up this book. One Night She Would Never Forget reads much like a contemporary romance with very little medical Jargon, so I would definitely recommend this book for anyone looking to read an emotionally charged second chance at love romance.
Book Info
Publication Date: June 1, 2013
One night to rewrite the rule book!
Spontaneity is not in Miranda Dean's vocabulary. Life as a single mum with a demanding career leaves no time for anything impulsive. But that's before the appearance of the delectable Dr. Patrick Costello!
Miranda has been resisting all men's charms, but there is something about Patrick—his gentle eyes, his cheeky smile, that feeling that she's always known him… So when he takes her by the hand she knows this will be one night she'll never forget!